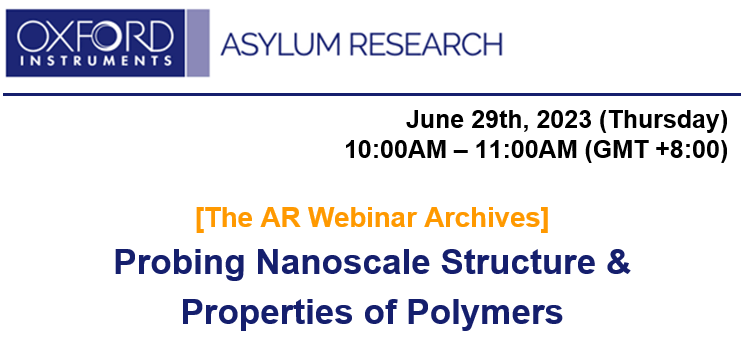 ALVTechnologies Philippines Incorporated together with our manufacturer from Asylum Research Oxford Instruments, would like to invite you to join our webinar on the topic of Probing Nanoscale Structure & Properties of Polymers on June 29, 2023 at 10:00 – 11:00 AM (Philippine Time).
Polymers are ubiquitous in everyday life and the subject of much materials research. Polymer properties are varied, and atomic force microscopy is an excellent tool to study them on many levels.
In addition to accurate measurement of polymer film topography, the wide range of AFM techniques allows for study of diverse polymer properties ranging from molecular chain arrangement in crystallites to domain modulus and conductivity.
In this webinar, we will look at how AFMs can reveal polymer structures down to the crystal lamellae, examine morphologies such as nanopores and nanofibers created from specific processes, and evaluate the dispersion of fillers and phase separation of components in composites and blends.
You will also learn to:
✅ Use your skills towards innovating high-performance polymer products
✅ Help shape the future of the polymer industry by helping to shape the way products are made
✅ Apply the latest material and process innovations and reduce time to market