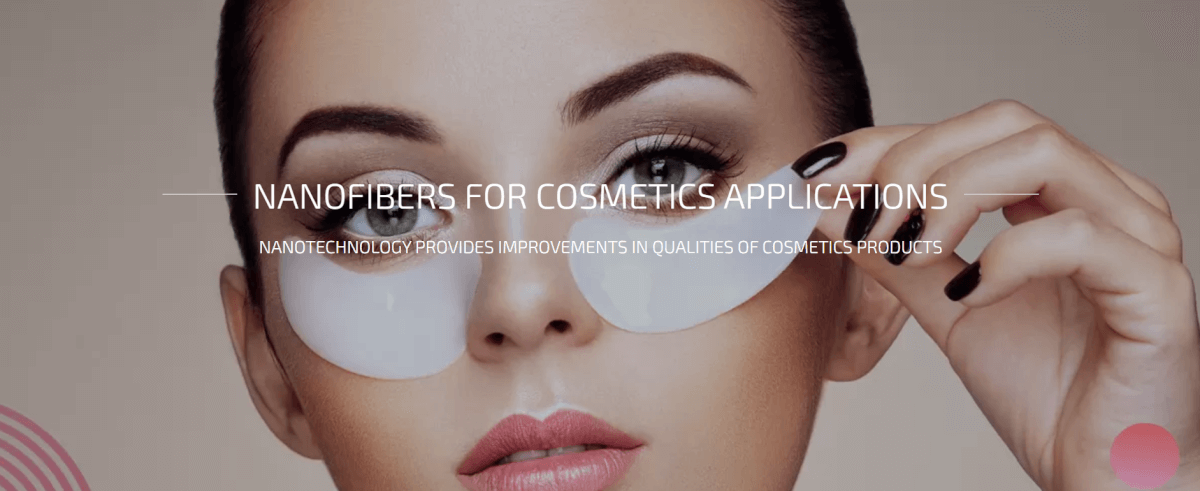 Efficient Nanofiber Cosmetics Products
Gaining admiration of people with a well-groomed physical appearance is one of the basic phenomena that exist in human nature. As a matter of fact; requirements of personal care bring along new developments of novel products for cosmetics.
The use of nanofibers and the nanostructures in cosmetics is often referred to as "nanocosmetics." These products are designed to provide improved performance, better skin penetration, and enhanced appearance.
Nanotechnology provides improvements in qualities of cosmetics products, they are enhanced with insertion of nanomaterials like nanoemulsions, nanopigments, nanoliposomes, nanoparticles and nanofibers. Personal care cosmetics products such as shampoo, facial masks, moisturizer, bronzer, sun-screen creams, anti-aging creams are some examples of cosmetics that contain nanostructured materials.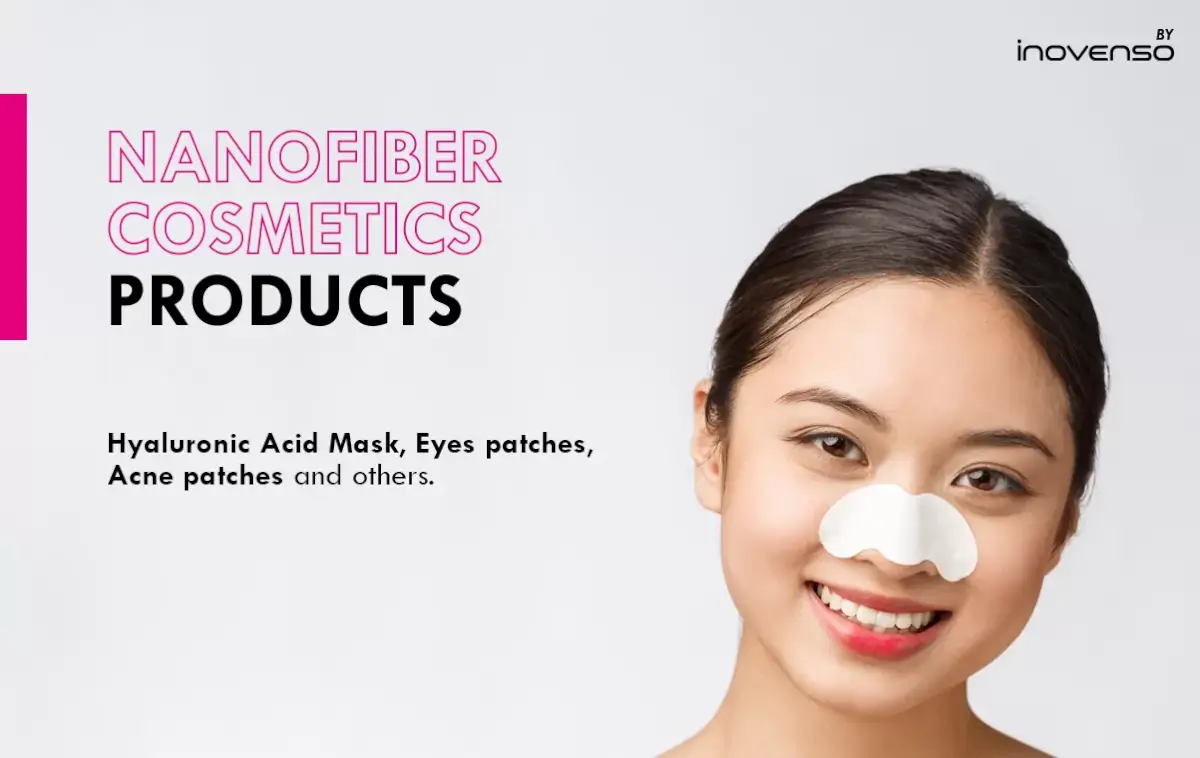 Why Nanofibers in Cosmetics?
Easy and efficient transport of the active ingredients: (like vitamins) to the skin via nanoemulsions.
Nanoliposomes encapsulate bioactive agents used in cosmetics so that the product does not clog skin pores and has an easy penetration of air and water-soluble materials.
High retention levels: Due to their enhanced features, such as small pore size and high porosity they can absorb huge amounts of liquids.
Breathable materials: Due to their oxygen and water permeability features, they can be used as breathable cosmetics like cleaners, moistures etc.
Deeper delivery: Large surface area of nanofibers also increases the contact surface between mesh and skin which provides efficient delivery of active agents to the deeper skin parts.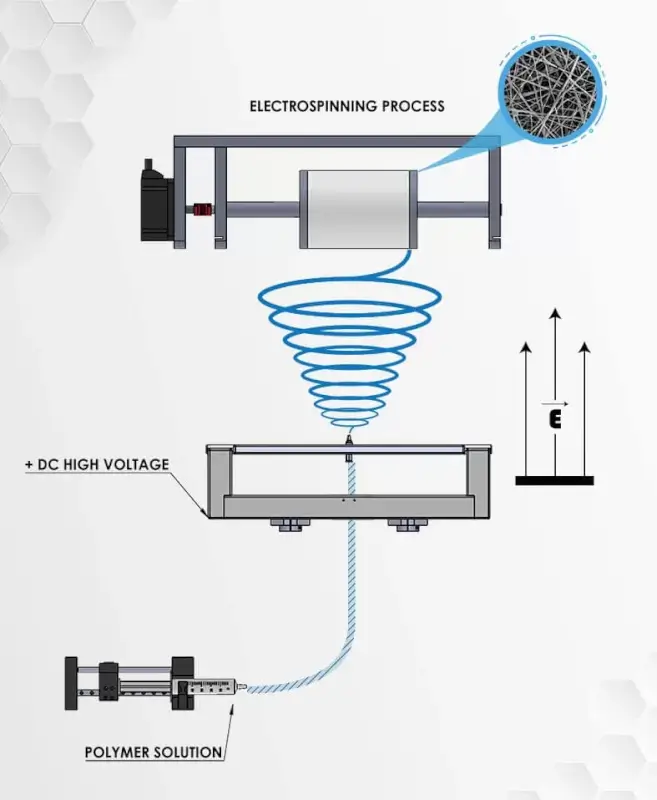 Electrospinning is a simple, cheap and a unique method to produce nanofiber mats with controllable pore sizes and fiber diameters. Many enhanced cosmetic products like nanofiber facial masks for skin therapy, for skin cleansing or for skin healing and renewal could be produced by this method.
Electrospun nanofibers can be used to encapsulate and deliver active ingredients in cosmetics. The high surface area and porosity of these nanofibers allow for controlled release of ingredients, providing longer-lasting and more effective results. This is particularly useful for anti-aging and skincare products.
Electrospun nanofibers can be used to create lightweight and transparent sunscreen formulations. These formulations provide better sun protection without the heavy and greasy feel of traditional sunscreens.
Electrospinning can be used to create nanofiber-based cosmetic face masks and patches. These products have remarkable and peerless features compared to their commercial counterparts.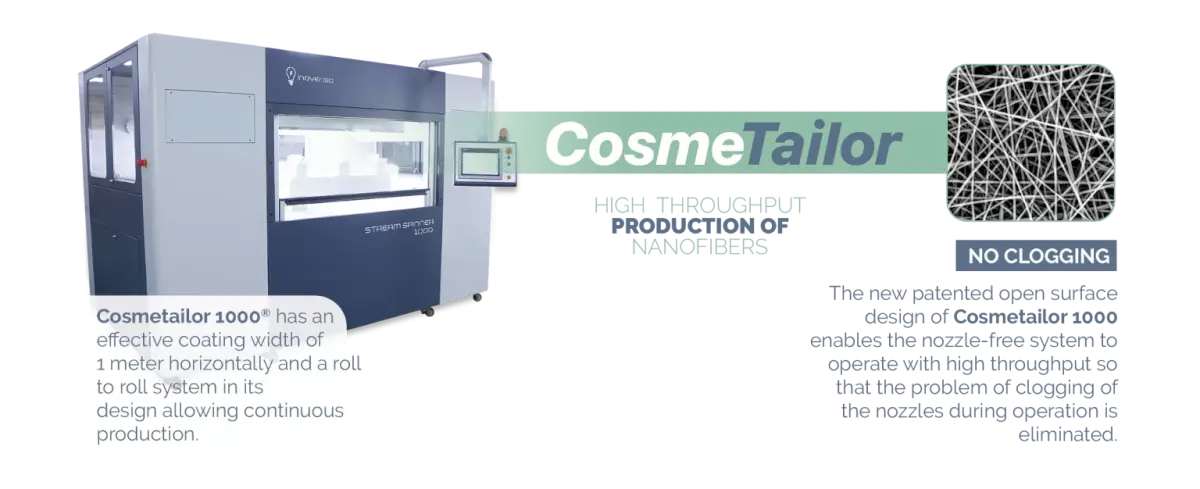 "Inovenso's Cosmetailor 1000" enables to produce nanofiber based cosmetic products with varying compositions including hyaluronic acid, collagen, aloe vera, vitamins, nutrients etc to enhance skin quality.
"Cosmetailor 1000" has an effective coating width of 1 meter horizontally and a roll-to-roll system in its design allowing continuous production.
The new patented open surface design of "Cosmetailor 1000" enables the nozzle-free system to operate with high throughput so that the problem of clogging of the nozzles during operation is eliminated.
If you'd like to know more about Inovenso's Cosmetailor 1000 and its application in your industry or field of research, contact us.