Latest innovation in pressure step/stability porometry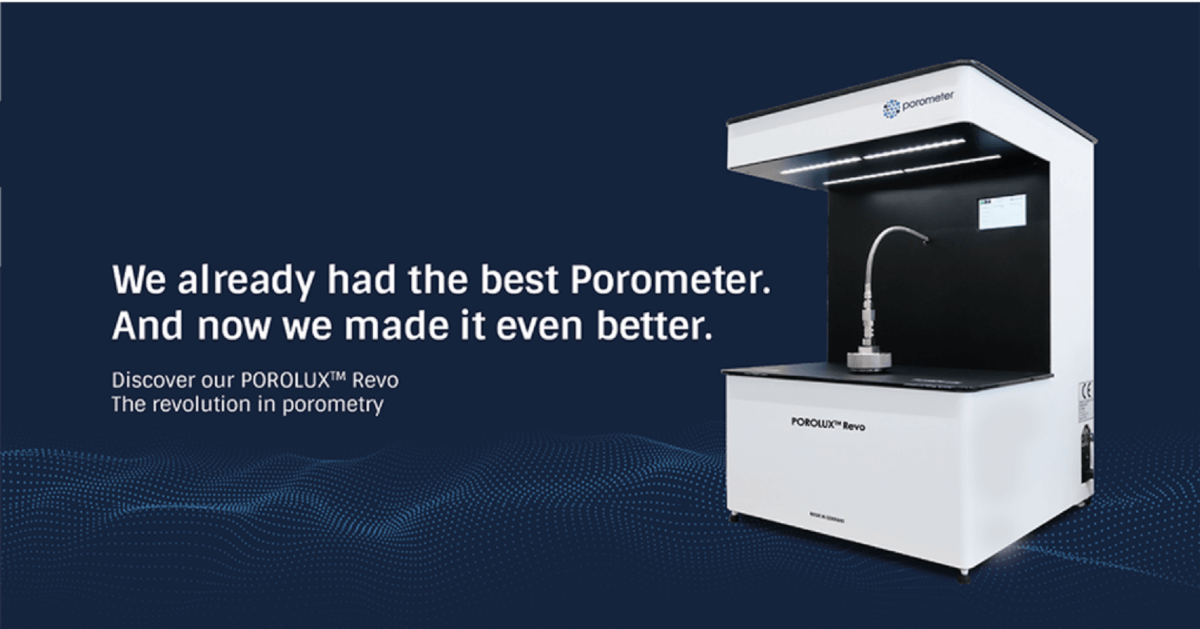 Porometer, a leading provider of pore size measurement solutions, has announced the launch of its latest product, the POROLUX™ Revo. Building on its reputation for innovation and cutting-edge technology, Porometer has developed a new instrument that takes pressure control to the next level, offering unrivalled accuracy and reproducibility in pore size measurement. 
The POROLUX™ Revo is the right instrument to characterize a wide range of materials with complex pore structures, such as polymeric membranes (flat sheets and hollow fibers), ceramic membranes, porous metals and nonwovens.
Patent pending MP² technology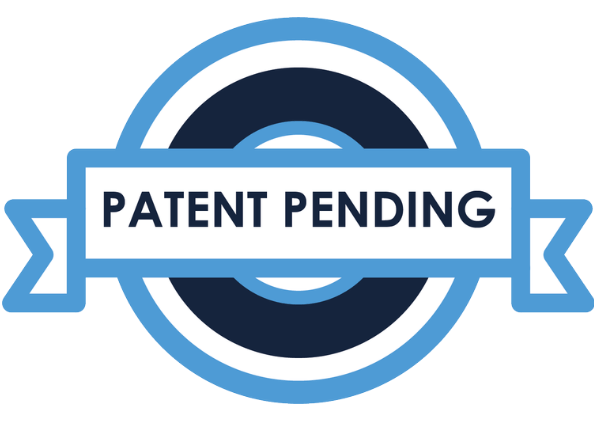 MP² stands for Multistage Pressure Process. This innovative technology ensures a smooth pressure increase during the measurement and speeds up the process of reaching flow and pressure stability. 
This advanced pressure built-up process makes it possible to do the measurements with smaller, and perfectly uniform pressure steps, leading to the most accurate and reproducible pore size results. Additionally, the technology makes it possible to record more data points in the pore opening region, resulting in more detailed pore size distribution curves.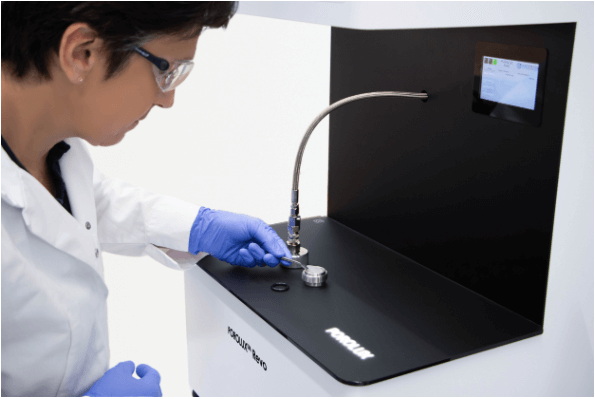 The POROLUX™ Revo detects the opening of a pore at a certain pressure and waits until all pores of the same diameter are completely opened before accepting the data point. This method results in a very accurate pore size measurement and allows to calculate the true pore size distribution. 
Additionally, the instrument can determine the bubble point in three different ways (largest pore according to ASTM F-316-03), a very unique feature in the market of porometry.  
Next to that, results on mean flow pore size, smallest pore, pore size distribution, cumulative flow distribution & gas permeability are reported. With our enhanced mathematical model, we can also obtain additional results such as total pore number and total pore area. 
Very intuitive and easy to use software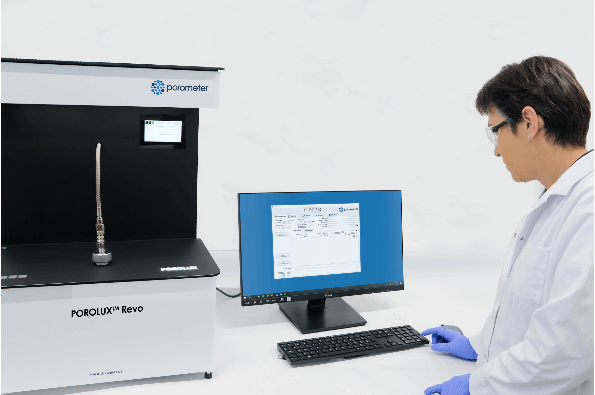 Not only is the fully integrated software powerful and comprehensive, it is also very intuitive and easy to use.
By allowing to change many parameters with a click of the mouse, the software enables its many users to tune the measurement to their exact needs. Additionally, the software, with built-in intelligence, gives the user access to many advanced functions, such as the re-evaluation function and the observation window.
Last but not least, the POROLUX™ Revo software comes with a very advanced curve smoothing and fitting function,
Straightforward and presentable output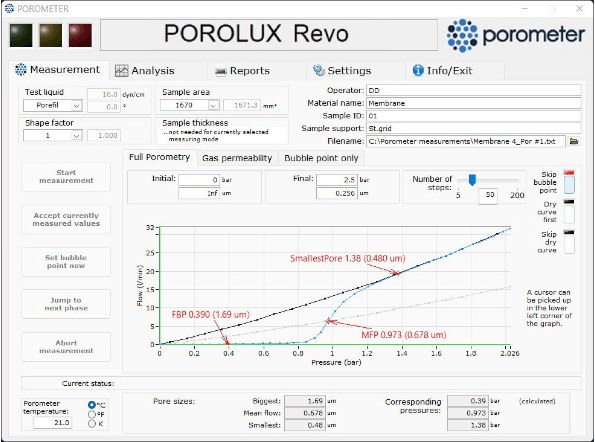 With one click of the button, results are exported in word, excel or pdf. The Porometer software makes it very easy to present multiple measurements next to each other, allowing for a straightforward comparison between different filter media.
Thanks to the adjustable scales, graphs such as wet and dry curve and pore size distribution are presented in a very clear and sophisticated manner.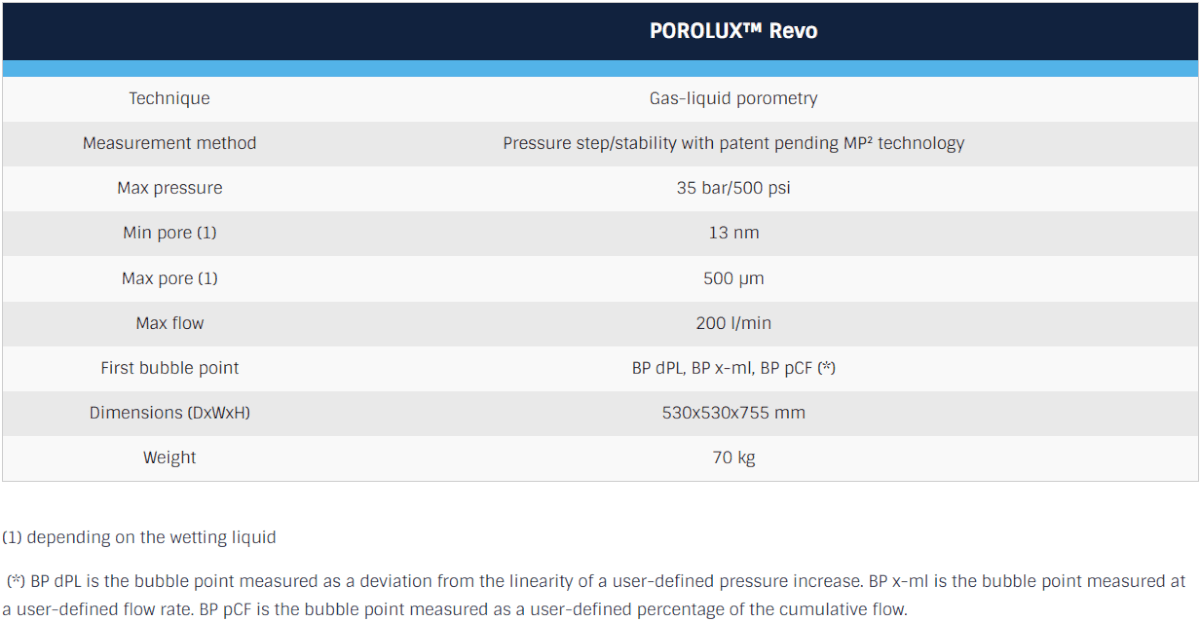 If you'd like to know more about the POROLUX™ Revo, and its application in your industry or field of research.