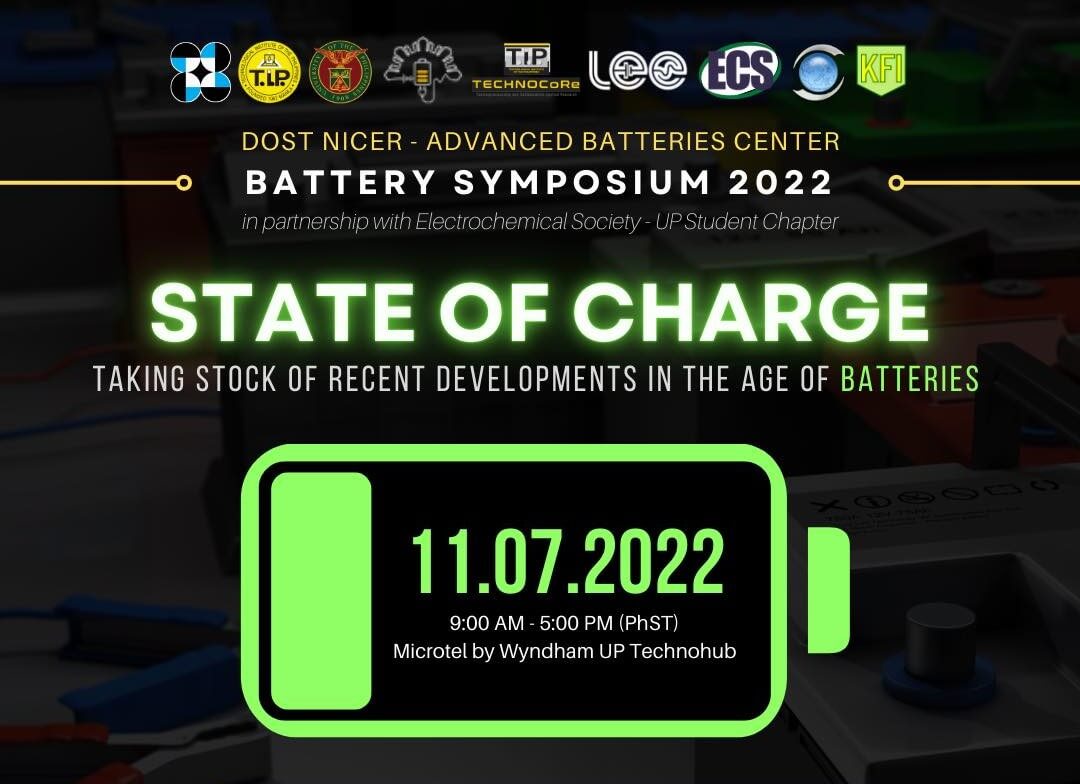 ALVTechnologies Philippines Incorporated proudly supported and co-presented the Department of Science and Technology – Niche Centers for R&D in the Regions (DOST-NICER) Advanced Batteries Center's 1st Battery Symposium on November 7, 2022, at Microtel by Wyndham UP Technohub.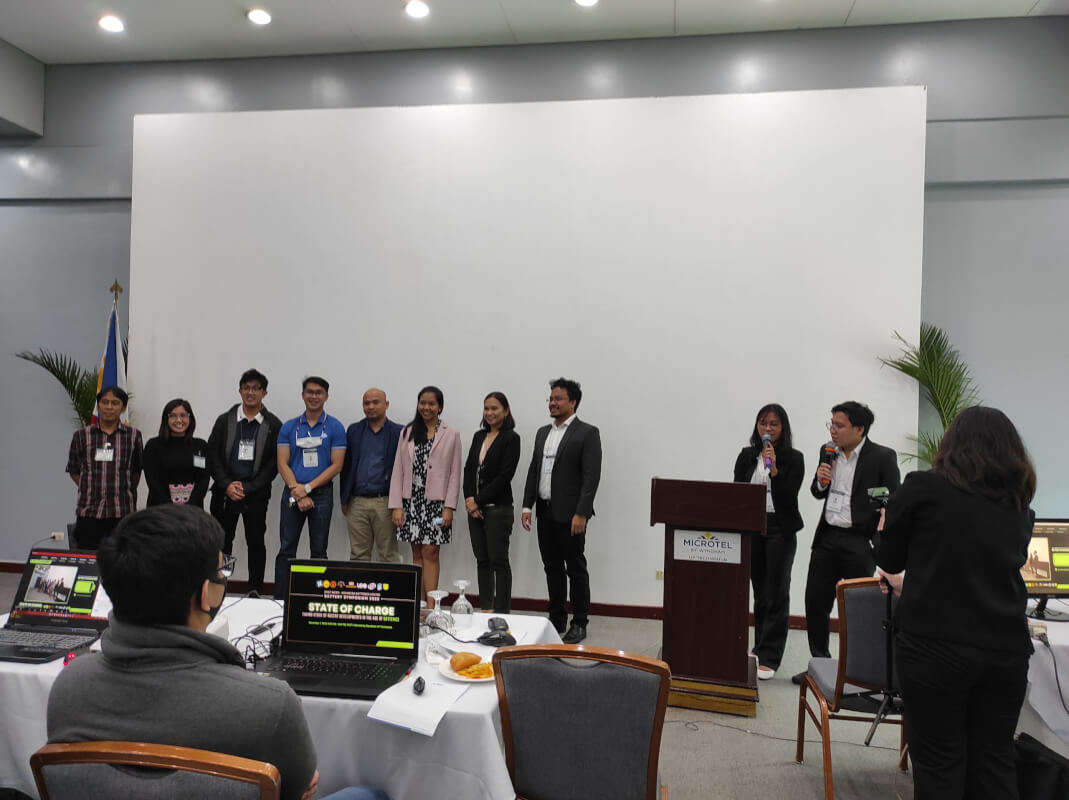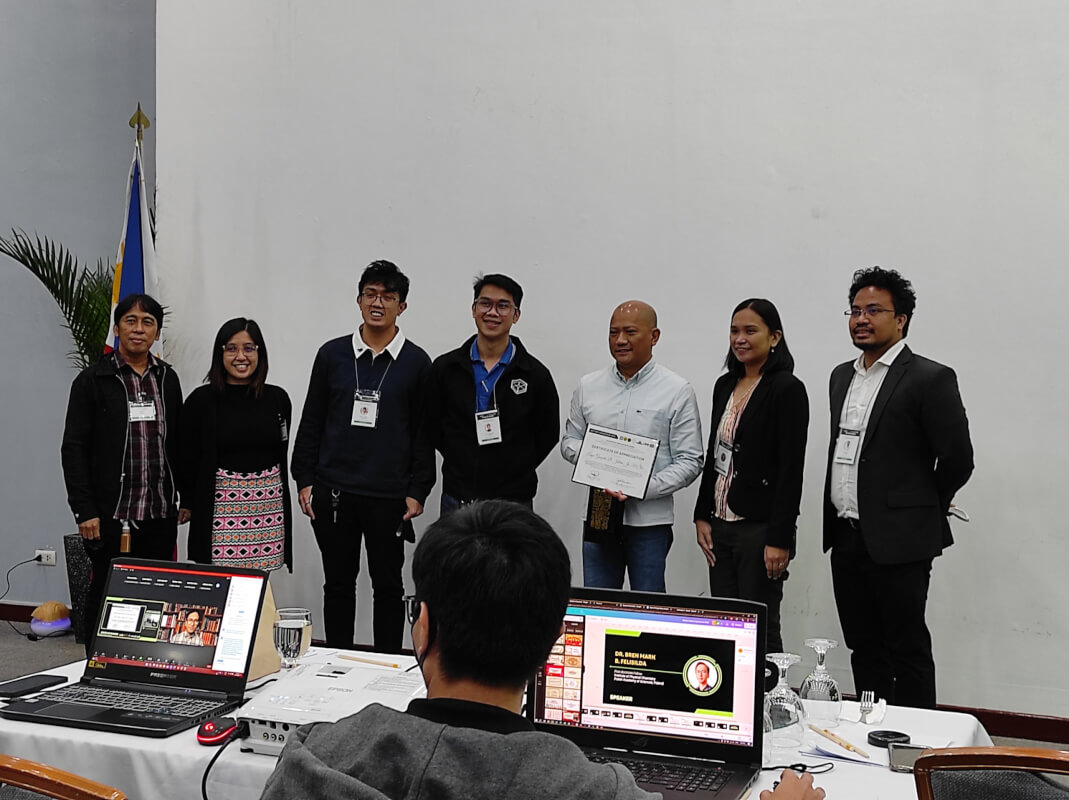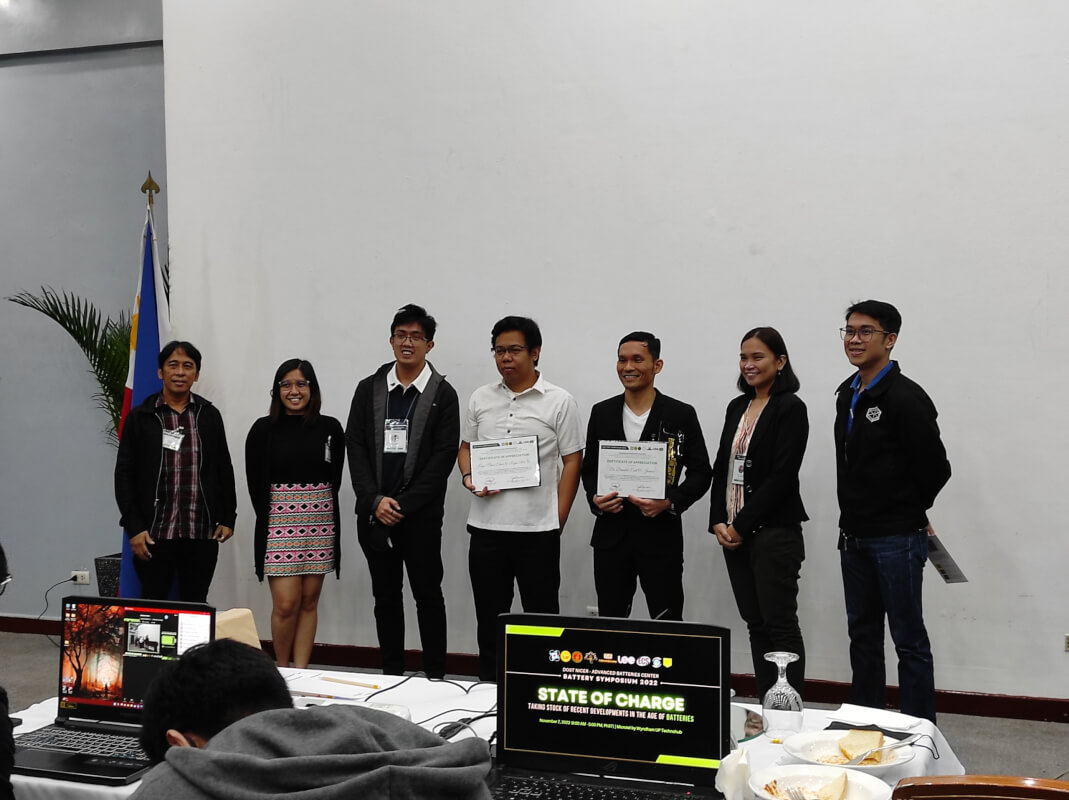 With the theme, "𝗦𝘁𝗮𝘁𝗲 𝗼𝗳 𝗖𝗵𝗮𝗿𝗴𝗲: 𝗧𝗮𝗸𝗶𝗻𝗴 𝗦𝘁𝗼𝗰𝗸 𝗼𝗳 𝗥𝗲𝗰𝗲𝗻𝘁 𝗗𝗲𝘃𝗲𝗹𝗼𝗽𝗺𝗲𝗻𝘁𝘀 𝗶𝗻 𝘁𝗵𝗲 𝗔𝗴𝗲 𝗼𝗳 𝗕𝗮𝘁𝘁𝗲𝗿𝗶𝗲𝘀," the symposium gathered students, researchers, and experts to cultivate battery research in the country.
The Advanced Batteries Center (ABC) is a collaborative Research and Development Program between Technological Institute of the Philippines (TIP) and University of the Philippines Diliman (UPD) which focuses on innovating different battery chemistries.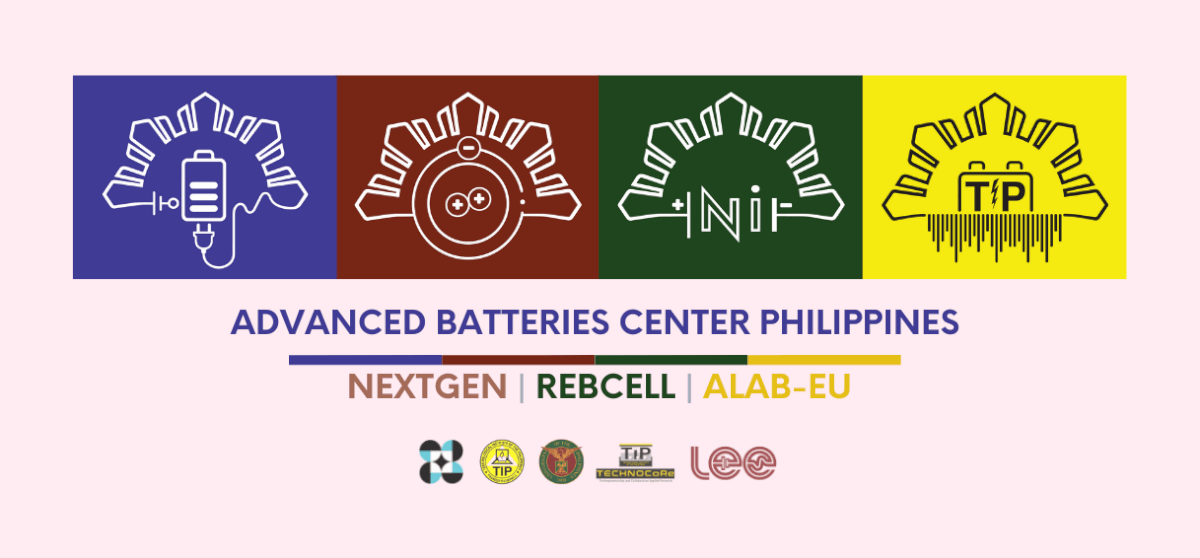 The 𝗥𝗲𝗻𝗲𝘄𝗲𝗱 𝗘𝗱𝗶𝘀𝗼𝗻 𝗕𝗮𝘁𝘁𝗲𝗿𝘆 𝘄𝗶𝘁𝗵 𝗔𝗱𝘃𝗮𝗻𝗰𝗲𝗱 𝗖𝗲𝗹𝗹 𝗔𝗿𝗰𝗵𝗶𝘁𝗲𝗰𝘁𝘂𝗿𝗲 𝗳𝗼𝗿 𝗛𝗶𝗴𝗵 𝗘𝗻𝗲𝗿𝗴𝘆 𝗗𝗲𝗻𝘀𝗶𝘁𝘆 𝗔𝗽𝗽𝗹𝗶𝗰𝗮𝘁𝗶𝗼𝗻𝘀 (𝗥𝗘𝗕𝗖𝗲𝗹𝗹) team headed by Dr. Julie Anne del Rosario takes on the challenge to renew Ni-Fe batteries by increasing the energy density and selectivity towards iron oxidation over hydrogen evolution.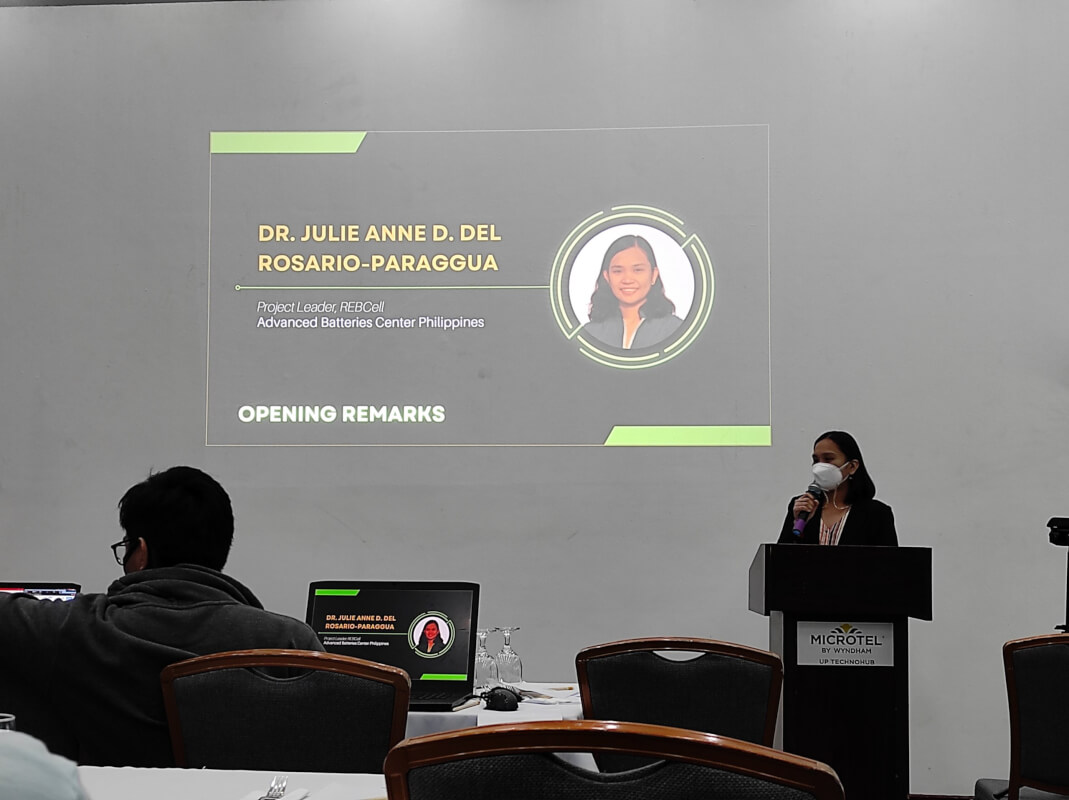 The 𝗔𝗱𝘃𝗮𝗻𝗰𝗲𝗱 𝗖𝗮𝘁𝗵𝗼𝗱𝗲 𝗠𝗮𝘁𝗲𝗿𝗶𝗮𝗹𝘀 𝗯𝗮𝘀𝗲𝗱 𝗼𝗻 𝗘𝗮𝗿𝘁𝗵-𝗔𝗯𝘂𝗻𝗱𝗮𝗻𝘁 𝗘𝗹𝗲𝗺𝗲𝗻𝘁𝘀 (𝗡𝗶, 𝗙𝗲) 𝗳𝗼𝗿 𝗛𝗶𝗴𝗵 𝗘𝗻𝗲𝗿𝗴𝘆 𝗗𝗲𝗻𝘀𝗶𝘁𝘆 𝗡𝗲𝘅𝘁 𝗚𝗲𝗻𝗲𝗿𝗮𝘁𝗶𝗼𝗻 𝗕𝗮𝘁𝘁𝗲𝗿𝗶𝗲𝘀 (𝗡𝗘𝗫𝗧𝗚𝗘𝗡) team headed by Dr. Joey Ocon aims to explore existing and discover novel Iron- and/or Nickel- based compounds as advanced battery cathodes.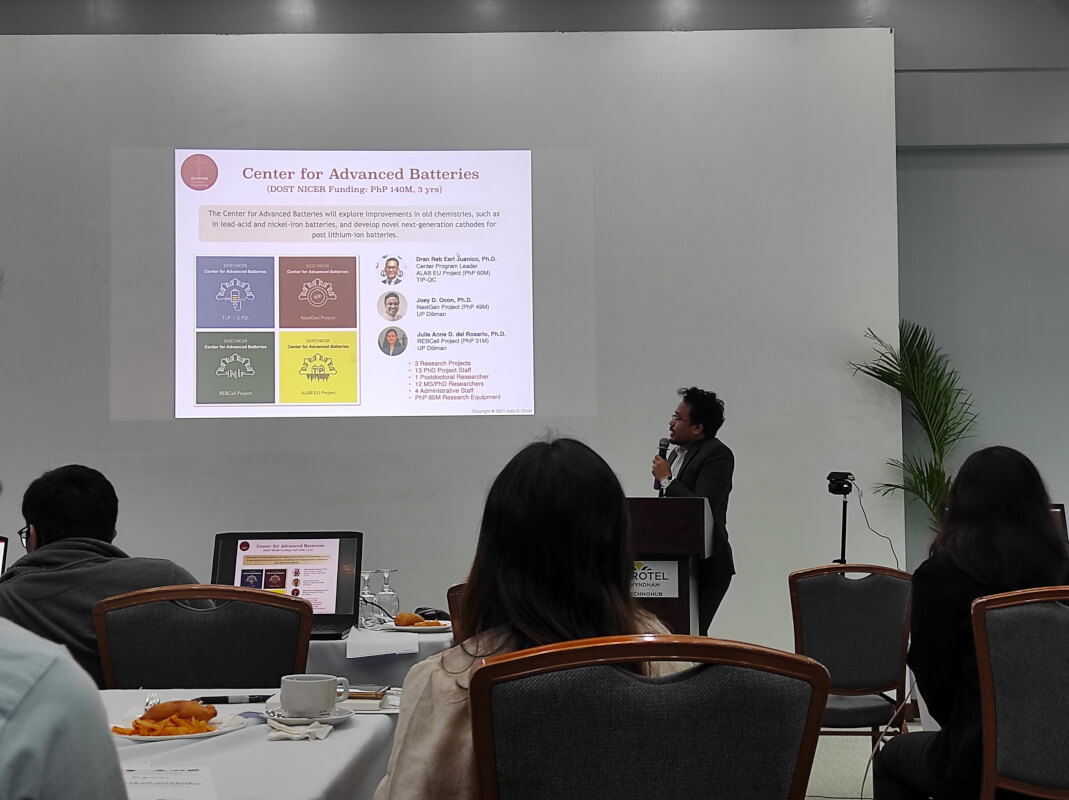 The 𝗔𝗱𝘃𝗮𝗻𝗰𝗲𝗱 𝗟𝗲𝗮𝗱 𝗔𝗰𝗶𝗱 𝗕𝗮𝘁𝘁𝗲𝗿𝗶𝗲𝘀 𝘄𝗶𝘁𝗵 𝗘𝗺𝗯𝗲𝗱𝗱𝗲𝗱 𝗨𝗹𝘁𝗿𝗮𝘀𝗼𝗻𝗶𝗰𝘀 (𝗔𝗟𝗔𝗕-𝗘𝗨) team headed by Dr. Drandreb Earl Juanico aims to advance lead-acid research by designing novel embedded ultrasonics-based products to improve the cycle life and performance of lead acid batteries for Battery Energy Storage Systems (BESS).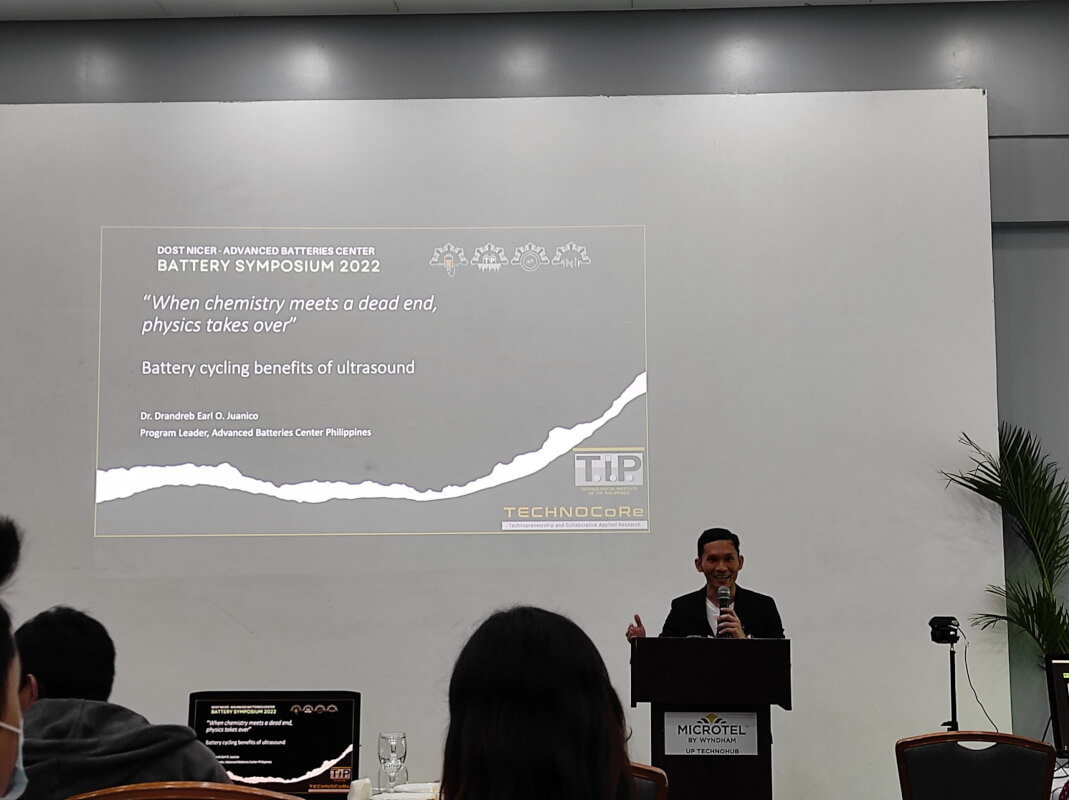 In relation to the event, ALVTechnologies showcased different electrochemistry products from different manufacturers, such as potentiostats, fuel cell test stations, battery cyclers, and accessories.