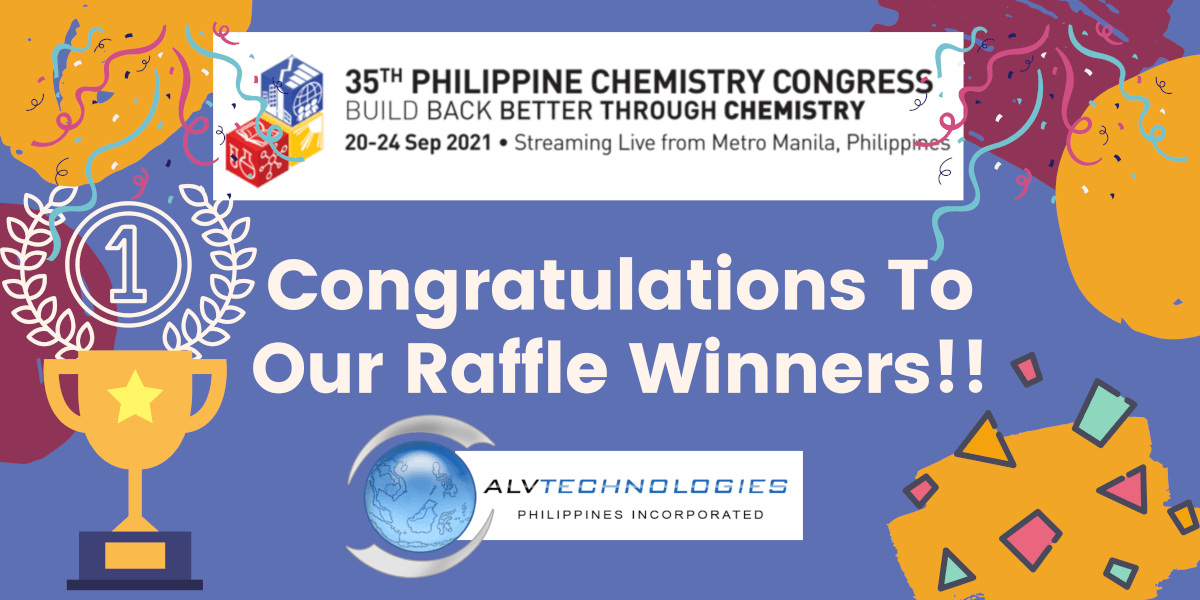 ALVTechnologies Philippines Incorporated would like to congratulate the following Raffle Winners during the 35th Philippine Chemistry Congress last 20-24 September 2021 in Manila, Philippines.
Laboratory Equipment and Consumables
Elisha Cabahug  – Conductivity Solution
Zamantha Nadir Z. Martin  – Syringe Filter Nylon
Mae Virtus  – Syringe Filter PES
Salvacion Caneo Mijares  – Dessicator Plate
Juvylyn Romea Glory  – pH Electrode
Jennifer Tamayo  – Refractometer
John Michael Macapanas  – Septa for 15 ml vial
Roxanne del Rosario  – Septa for 2 ml Vial
Abegail Santillan  – Dual band Gigabit Router
Leonie Lou Dominguez Jizmundo  – Dental Wax
GrabFood Gifts worth PHP 500.00
Rey Capangpangan
Regina Aileen May Vergara
Dahlia Apodaca
GrabRide Gifts worth PHP 300.00
David Joseph Alzate
Jonathan Patricio
Ryan Gabriel Plantilla
Dianne Kristine Perez
Joana Corpin
GrabFood Gifts worth PHP 100.00
Loreta Gromea
Mary Grace Victorino
Aira Mae Dalangin
Venus Cantero
Ronald Roie Bernadas
GrabRide Gifts worth PHP 100.00
Aisa Africa
Eugene Bacolod
Roberlyn Cabrera
Fritche Valdez Asio
Myla Tepase
Special Winners for attending most of our webinars (GrabFood Gifts worth PHP 500.00)
Jonathan Patricio
Aegar Toffen Hans Marzo
Aisah Baute
Our team will be in touch with you regarding your prizes, and we would like to once again thank everyone for their continued support.
We hope you had additional knowledge with our webinars, and we hope you would enjoy your prize! See you all again soon!