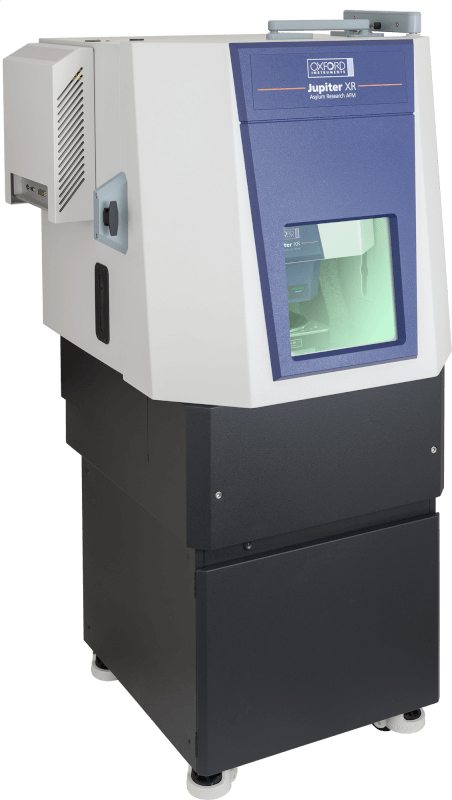 The Jupiter XR Atomic Force Microscope is the first and only large-sample AFM to offer both high-speed imaging and extended range in a single scanner. Jupiter provides complete 200 mm sample access and delivers higher resolution, faster results, a simpler user experience, and the versatility to excel in both academic research and industrial R&D laboratories.
Higher resolution than any other large-sample AFM

Extended range 100 μm scanner is 5-20× faster than most other AFMs

From setup to results, every step is simpler and faster

Modular design adapts to your needs for maximum flexibility
Highest Performance
Higher resolution than any other large-sample AFM
Extended-range scanner is 5-20× faster than most AFMs and features large 100 μm X-Y & 12 μm Z range
Exclusive blueDrive™ Tapping Mode gives more reproducible results and simplifies operation
Simpler User Experience
Fully-motorized laser and detector setup eliminates manual adjustment of knobs
Fully-addressable, high-speed stage rapidly reaches any point on 200 mm samples
Sharp top-view optics help you easily locate your precise region of interest
Go from atoms to large 100-μm scans and use any imaging mode, all with the single XR scanner
Versatility for Diverse Research Needs
Support for a full range of imaging modes
Modular design makes it fast and simple to add accessories and future upgrades
Flexible software makes routine measurements easy while enabling advanced research
Support that goes above and beyond your expectations
Includes a standard one-year comprehensive warranty
No-charge technical support and basic applications support for life
Affordable support agreements that offer extended warranties and advanced training
For more information, visit the Jupiter XR AFM at the Oxford Instruments Asylum Research website.