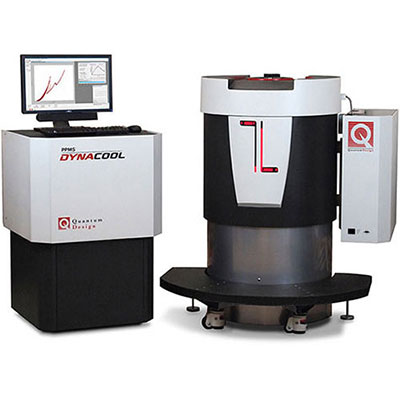 Quantum Design PPMS

®

 

DynaCool

™
The popular Physical Property Measurement System (PPMS) from Quantum Design is now available in a truly cryogen-free package. The PPMS DynaCool uses a single two-stage Pulse Tube cooler to cool both the superconducting magnet and the temperature control system, providing a low vibration environment for sample measurements. It offers continuous low temperature control and precise field and temperature sweep modes.
The PPMS DynaCool also comes standard with an integrated cryopump, which makes it compatible with all available PPMS measurement options, or any other user-designed experiments, right out of the box!
Features
No need for liquid cryogens
Temperature range of 1.8 K – 400 K
9 T, 12 T and 14 T magnets available
Continuous Low-Temperature Control – maintains temperatures below 4.2 K with smooth temperature transitions when warming and cooling through 4.2 K
Controlled temperature Sweep Mode
Fully automated operation of available PPMS measurement options
Built-in Cryopump for high vacuum applications (<10-4 Torr)
New electronics built using CAN architecture for improved reliability
Standby mode conserves power while requiring only a short recovery time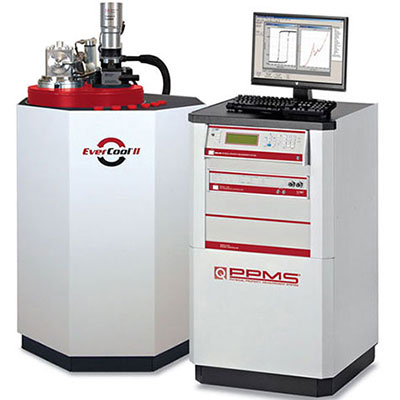 Quantum Design PPMS®
The Quantum Design PPMS represents a unique concept in laboratory equipment: an open architecture, variable temperature-field system, designed to perform a variety of automated measurements. Available measurement options include all required hardware and electronics to immediately begin collecting publication-quality data, while the system is also easily adapted to custom user experiments. Sample environment controls include fields up to ±16 T and a temperature range of 1.9 – 400 K. The expandable design enables combining many features in one instrument to make the PPMS the most versatile system of its kind.
Cryogen-Free Option Available as Upgrade:  The Quantum Design PPMS EverCool-II® is the cryogen-free upgrade to the industry-leading Physical Property Measurement System (PPMS) product line. Available as an upgrade to existing PPMS installations.
Features
Compatible with more than 20 Quantum Design Measurement Options that seamlessly integrate with the MultiVu software environment
Versatile sample mounts couple easily to the 12 electrical leads built into the cryostat insert for consistently reliable electrical acces
Software controls for the temperature and magnetic field readily enable the automation of complex data acquisition procedures
The included Model 6000, a sophisticated microprocessor-controlled device, eliminates the need to use or purchase external bridges, current sources, or voltage sources for basic system operation
Sample chamber has 2.6 cm diameter to accommodate custom probes
Interface with external 3rd party instruments, whether controlling these from within MultiVu or directing the PPMS from external software, such as NI LabVIEW
Magnet Configurations
Select from 9 T, 14 T, or 16 T longitudinal solenoid magnet configurations
For transverse fields, a 7 T split-coil configuration is available
Systems may also be ordered without any installed magnet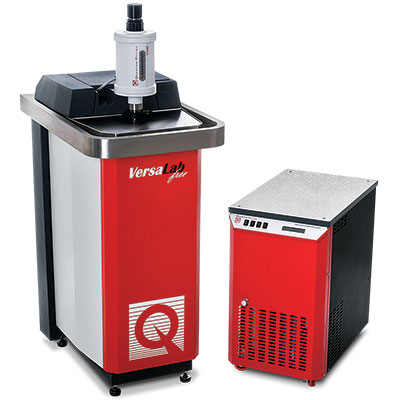 Quantum Design PPMS® VersaLab™
Quantum Design's PPMS VersaLab is a portable, cryogen-free cryocooler-based material characterization platform. With a temperature range of 50 – 400 K, this 3 tesla platform is perfect for accomplishing many types of materials characterization in a limited space.
As with all Quantum Design instruments, the PPMS VersaLab is a fully automated turnkey system with a user-friendly interface. It is specifically designed for material characterization up to 3 tesla and over a wide temperature range without the need of liquid cryogens or high power infrastructure. This makes the PPMS VersaLab perfect for small laboratories where space is at a premium, as well as educational labs that might not have the full facilities of major laboratories.
Features
Compact size and portability requires less lab space
No need for liquid cryogens
Runs almost all PPMS measurement options
No high power requirement for operation
A perfect solution for physics education classes and labs