Software Solution for Intelligent Imaging
DaVis is the complete software solution for intelligent (laser) imaging for fluid dynamics, combustion, spray applications as well as material strain and deformation imaging.
Flexible image acquisition modes, advanced image processing algorithms, intelligent storage and presentation of multi-dimensional image data as well as the software controlled operation of all implemented hardware are the key features of DaVis.
LaVision's new DaVis 10 defines a new landmark of cutting-edge innovations in Intelligent Laser Imaging software. Combining high-performance cameras with outstanding image processing algorithms opens new dimensions for your imaging applications. DaVis 10 has been redesigned from the ground-up to deliver a software for modern demands for usability, data handling and visualization.
new user interface design with powerful 3D/4D data display
interactive live view with on-line device control for seamless operation
user-friendly hardware configuration dialog with visual feedback
100+ camera and laser models integrated and directly controlled by

 

DaVis 10
new software architecture with pure 64 bit structure
efficient data storage for large amount of data
designed for successful laser imaging based on our 25+ years of experience
free updates and free support for the entire

 

DaVis 10

 

lifetime over many years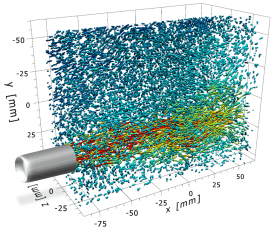 Leading-Edge 4D Imaging
DaVis 10 includes LaVision's most innovative algorithms for 4D measurements of flow fields, 3D surfaces, sprays, mixing and combustion processes. Latest innovations like the robot-assisted MiniShaker for high-density particle tracking with Shake-the-Box, Pressure from PIV and Tomographic LIF provide a comprehensive platform for Intelligent Imaging.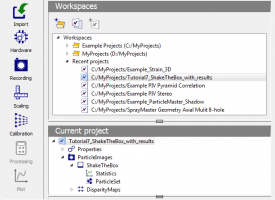 New UI Design and Software Architecture
DaVis 10 has been redesigned from the ground-up to match the requirements of current and future imaging technology. A pure 64 bit structure, a fresh layout, and a responsive user interface improve the workflow and lead to a satisfying user experience.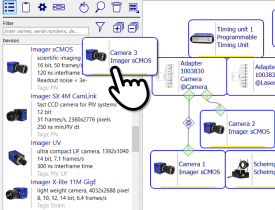 Fully Integrated Hardware Control
More than 100 camera and laser models are integrated into and controlled by DaVis 10. This high degree of integration offers an intuitive and seamless operation of the complete system, especially when combining different camera models and hardware components.