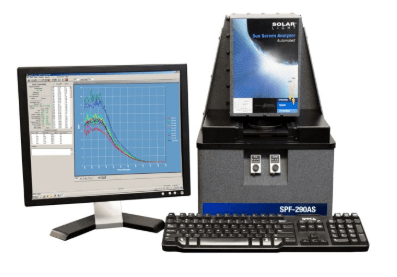 Model SPF-290AS Automated UV Transmittance / SPF Analyzer
Solar Light's versatile SPF-290AS UV Transmittance / Sunscreen Protection Factor Analyzer is an integrated turnkey desktop system for quick, efficient, and accurate UV Transmittance analysis of sunscreens, liquids, lotions, creams, sprays, gels, powders, emulsions, textiles, and more!
The SPF-290AS is the perfect choice for quick, efficient, and accurate analysis of:
Liquids
Lotions
Creams
Sprays
Gels
Powders
Emulsions
Textiles
Validation Kit Included
An SPF-290AS Validation Kit is included with each analyzer and comes complete with a Comprehensive Test Plate. The Comprehensive Test Plate contains several optical filters that are measured by the SPF-290AS, and the results are compared to NIST-traceable factory measurements. This feature is designed to provide a clear understanding and validation of how your SPF-290AS analyzer is performing against factory measurements for optical density, wavelength accuracy, and correlation to in-vivo testing whenever desired. Equipped with this tool, users will not spend time performing tests on an analyzer that is in need of repair, nor will they spend money for repairs that are not necessary. The SPF-290AS Validation Kit includes:
Storage case
10 syringes with tips, 1 ml, disposable
PMMA plates, 50 x 50 mm, 5μ roughness, sample set of 3
Sample holder for 50 x 50 mm PMMA plates
Calibration Filter Plate assembly
1 oz jar of Homosalate Standard
1 oz jar of COLIPA Standard
Factory calibration data
Depending on your intended testing methods, additional boxes of two hundred PMMA plates in either 2μ roughness or 5μ roughness are available optionally. We also offer 3M™ Transpore™ tape and Transpore tape holders for performing less demanding measurement data collection.