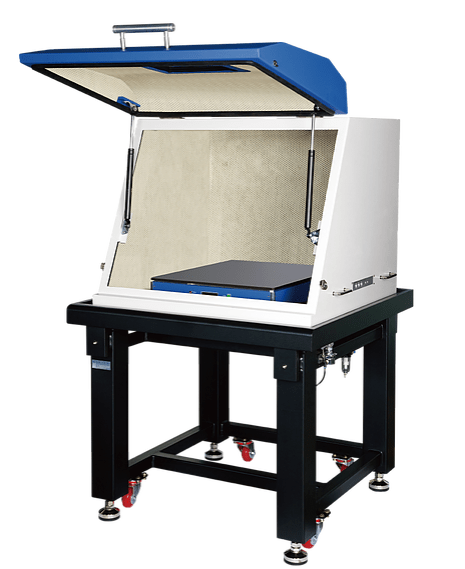 Acoustic Enclosures
DAEIL's acoustic enclosure is specifically designed to provide outstanding acoustic isolation in the nosiest environments for ultra-sensitive metrology tools. Acoustic noise can critically disturb those high-performance metrology tools such as AFMs, and with our advanced acoustic isolation layering technology, our acoustic enclosure isolate acoustic noise from adversely affecting measurement data.  ​
Exceptional acoustic isolation performance across a broad frequency spectrum

Multiple layers of acoustic dampening material 

Triple-pane window allows monitoring of inside without opening a door

Gas spring allows easy opening/closing of a door

Anti-vibration rubber and stiff granite plate are installed inside the acoustic chamber

Casters are attached on the support frame, providing mobility
SEM Acoustic Enclosure
As electron microscopy advances, a quite and noise controlled environment is essentially required.  DAEIL SYSTMES's SEM acoustic enclosure that specially designed for electron microscopes to provide an optimal environment that acoustic noise cannot be transmitted to the electron microscopes inside the enclosure. Our SEM enclosure has a cooling control system to prevent rising temperatures inside the enclosure, and the enclosure isolate the microscope from acoustic noises as well. In addition, users can add custom configurations and accessories according to specifications and purpose.