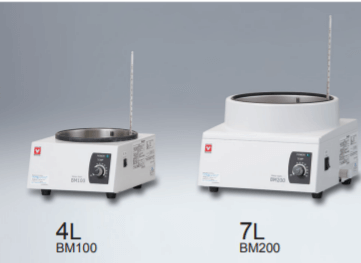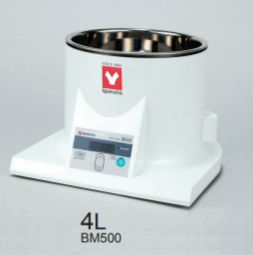 Economy Constant Temperature Water Bath- BM Series
Easy to use, compact design water bath
BM100/110/200/210
Analog set up system
Thermometer is included to verify actual temperature
Protected water tank prevents burns caused by contact
Equipped with a drain (BM200/210)
BM401/410
Digital temperature setting by ▲/▼ keys
Protected water tank prevents burns caused by contact
Equipped with a drain
BM500/510
Digital temperature setting by ▲/▼ keys
Removable water tank for convenient cleaning and changing of water
Heater situated outside the water tank
Exclusive connection for bath operational setting function with RE601/801 rotary evaporator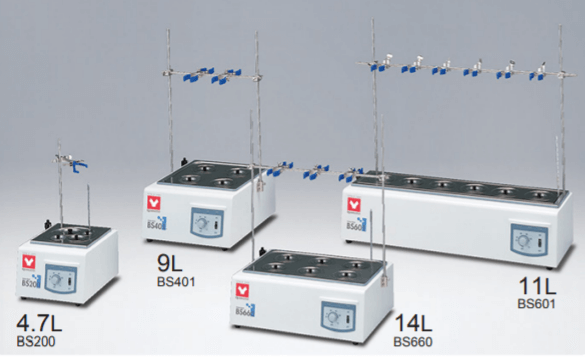 Programmable Precision Constant Temperature Water Bath- BH Series
Benchtop precision constant temperature bath equipped with high performance controller for higher precision and wider temperature range.
Operation and functions
Precision controller enables temperature adjustment accuracy of ±0.01°C (at 20°C) BH501 can be used as precision water or oil bath
Maximum of 99 steps of programming operation, fixed temperature operation, Quick auto stop, Auto stop and Auto start functions RS485 communication function,
Temperature output terminal (1~5V), Alarm output terminal, calibration offset function and key lock function Better external circulation with powerful circulation pump
Circulation pump flow changeable up to 10 patterns
Circulated water temperature (closed type) can be controlled precisely by external sensor
Control panel can be removed for remote control by using communication cable (sold separately)
Safety features
Self diagnostic functions, Earth leakage circuit breaker, Empty boiling prevention switch, Automatic overheating prevention, Independent overheating prevention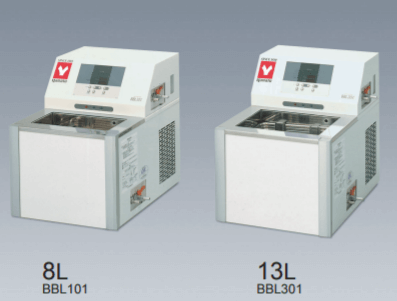 Low Constant Temperature Water Bath – BBL101/301
Benchtop water bath with wide operating temperature range and sufficient bath capacity
Benchtop constant low temperature water bath, with capacity 8L/13L and operating temperature range -10~80°C
Precision control with temperature adjustment accuracy of ±0.1°C
More applications available with larger tank space
Internal / External Circulation can be changed easily
Shelf height is 2 stage adjustable for different flask sizes
Standard equipped with auto stop, auto start, RS485 communication function, temperature output terminal (4~20mA)
Enhanced safety features includes self-diagnostic function, overcurrent circuit breaker, refrigerator overload relay, empty boiling prevention float switch, refrigerator protection delay timer function.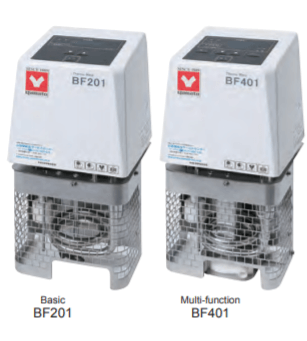 Immersion Constant Temperature Device- Thermomate BF Series
Multi-function immersion thermostatic device with improved performance, operability and safety
Operation and functions
Four models including basic model with only fixed temperature operation and multi-function models with segment programming function, external output and external communication function
Water jet strength can be adjusted in 10 patterns
Temperature preset function enables memory and read out of temperature BF601 can be used for water or oil
No protrusions, easy to set-up
Safety features
Self-diagnostic functions, circuit protector, water level detection sensor and buzzer alarm for errors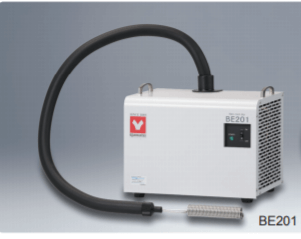 Immersion Cooler (Neo Cool Dip) BE Series
Operating temp. range -20~+35°C
Easy to use compact benchtop immersion cooler in combination with water bath
Cools down water bath immediately by dipping cooling coil into fluid
Improved safety by adopting overcurrent circuit breaker
Spiral tube of BE201 changed from copper to chrome plated copper with high corrosion resistance Stainless steel flexible cooling coil of BE201F/301 is high corrosion resistant and can be easily bent to fit various bath capacities
Comes with handles for better usability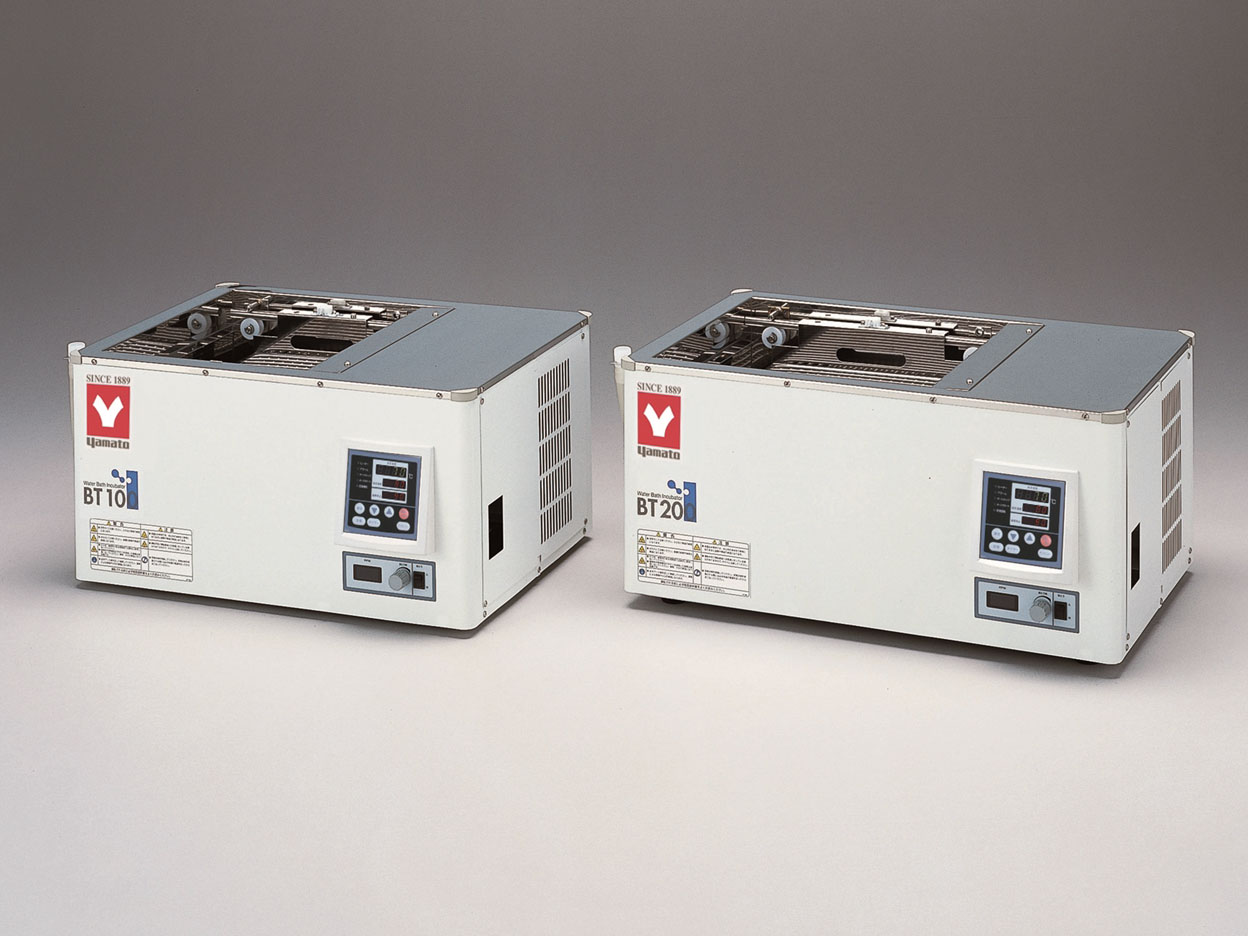 Shaking Water Bath Incubator
BT100/200/300
The BT units are constant temperature water baths that shake. They feature an easy-to-use and flexible inner tank and integrated vibrating design. They also incorporate a thermostat that enables fixed operation and comprehensive safety features.
The vibration range varies extends from 10 to 44mm and can be freely changed, while the oscillation frequency ranges from 20 to 160 times per minute, allowing for non-incremental speed transition. settings are input using a controller with a digital display.
Settings for the temperature and timer can be easily input using the up and down keys, and the settings appear on a digital display.
Method: 

Reciprocating shaking system, Stirring by pump

Operating Temp. Range: 

Room temp. +5°C to 80°C(when top cover is installed)

Temperature control accuracy: 

±0.02°C to 0.08°C

Shaking frequency: 

20 to 160 times/min

Shaking width: 

10 to 40mm (adjustable)

Timer: 

1 min. to 999 hr. 50 min. Digital display, Quick automatic start/stop

Internal Capacity: 19L / 23L / 34L