UVISEL 2
Spectroscopic Ellipsometer
The UVISEL 2 includes the widest range of integrated automated features useful for the investigation of all material family.
The UVISEL 2 features a patented sample vision coupled with automated spot selection for accurate positioning of the measurement spot and region on the sample.
The UVISEL 2 integrates the world's smallest patented achromatic spot size of 35μm capable of covering a large spectral range from FUV to NIR for measurement of very small sample areas.
Driven by the DeltaPsi2 software, the UVISEL 2 is simple to operate and has the performance required characterizing all current materials as well as the next generation materials and structures.
Smart SE
Powerful and Cost Effective Spectroscopic Ellipsometer
Smart SE, Powerful and Cost Effective Spectroscopic Ellipsometer
The Smart SE from HORIBA Scientific is a versatile spectroscopic ellipsometer for fast and accurate thin film measurements. It characterizes thin film thickness from a few Angstroms to 20µm, optical constants (n,k), and thin film structure properties (such as roughness, optical graded and anisotropic layers, etc).
The spectral range from 450 to 1000nm is measured in a few seconds and ellipsometric data are analyzed using the DeltaPsi2 software platform. The software integrates two levels of software to fulfil both routine analysis with predefined recipes and advanced analysis with state-of-the art ellipsometric modelling.
The Smart SE ellipsometer is a cost effective thin film R&D tool with no compromise on features, and delivers research grade performance at an economical price. It provides an integrated vision system for accurate spot positioning, seven automated micro spots with size ranging down to a few tens of microns for measurement of small features, and the ability to measure the complete 16-element Mueller matrix in just a few seconds for the study of complex samples.
The flexible design of the Smart SE enables full automation of the sample stage and goniometer as well as in-situ use on process chambers. It matches any application or budget for a wide variety of application areas including microelectronic, photovoltaic, display, optical coatings, surface treatments and organic compounds.
Auto SE
Spectroscopic Ellipsometer for Simple Thin Film Measurement
The Auto SE is a new thin film measurement tool that allows full automatic analysis of thin film samples with simple push button operation.
Sample analysis takes only a few seconds and provides a complete report that fully describes the thin film stack – including film thicknesses, optical constants, surface roughness, and film inhomogeneities.
The Auto SE is a highly featured instrument that includes an automatic XYZ stage, real-time imaging of the measurement site and automatic selection of spot size. Many accessories are available to suit a large range of applications.
The Auto SE includes built-in diagnostic indicators for the automatic detection and diagnosis of problems, with comprehensive operator guidance for troubleshooting.
The Auto SE stands out in its ease of use and numerous automatic features that made the Auto SE a turnkey instrument ideal for routine thin film measurement and device quality control.
UVISEL Plus
Spectroscopic Ellipsometer from FUV to NIR: 190 to 2100 nm
The Reference Ellipsometer for Thin Film Measurements
The UVISEL Plus ellipsometer offers the best combination of modularity and performance for advanced thin film, surface and interface characterization.
The new UVISEL Plus includes the newest acquisition technology designed to measure faster and more accurately than ever. FastAcq, the newest acquisition technology, is based on double modulation, designed for real world thin film characterization. Based on a new electronic, data processing and high speed monochromator, the new FastAcq technology enables a sample measurement from 190 to 2100nm to be completed within 3 minutes, at high resolution.
Based on phase modulation technology, the UVISEL Plus ellipsometer provides a powerful optical design to continuously cover the spectral range from 190 to 2100 nm. High quality data are delivered across the whole spectral range in terms of high accuracy, high resolution measurements and excellent signal to noise ratio.
UVISEL 2 VUV
A versatile spectroscopic ellipsometer covering a large range from VUV to NIR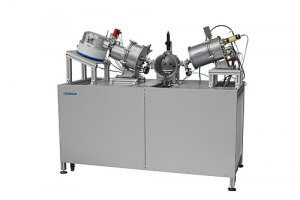 The UVISEL 2 VUV is a new generation of phase modulation ellipsometer for VUV measurements. It is the only spectroscopic ellipsometer on the market designed to deliver the fastest thin film measurements over the largest wavelength range, from 147 to 2100 nm.
The UVISEL 2 VUV is "a hybrid ellipsometer", capable of operating in 2 modes: under nitrogen or primary vacuum. Its mechanical design is optimized for low nitrogen consumption down to 6L/min, and allows for fast sample loading, which takes less than two minutes. The readily accessible chamber in front makes sample loading very convenient.
The UVISEL 2 VUV provides high sensitivity at VUV wavelengths. It integrates dual high power energy sources, high throughput optics, a CaF2 photo-elastic modulator and two modern monochromators. Sample measurement takes less than 8 minutes from 147 to 850 nm with an excellent signal to noise ratio.
UVISEL Plus In-Situ
In-situ spectroscopic ellipsometer for real-time thin film monitoring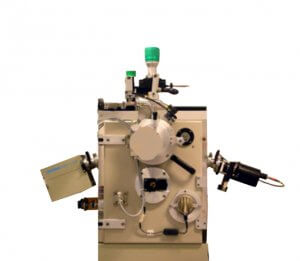 The UVISEL Plus in-situ spectroscopic ellipsometer can be easily mounted on process chambers (PECVD, MOCVD, sputter, evaporation, ALD, MBE) for the real-time control of thin film deposition or etch processes.
The UVISEL Plus in-situ provides the unique combinations of very high speed, sensitivity, dynamic range and accuracy making the instrument able to control deposition / etch at the atomic layer thickness level, even for rapid processes.
Using our new adaptation kit it is possible to use the same ellipsometer for in-situ and benchtop application on a goniometer. Switching between the two configurations and aligning the system is extremely straightforward.
The UVISEL Plus in-situ ellipsometer is driven by the DeltaPsi2 software platform that is common to all HORIBA Jobin Yvon thin film metrology tools. The software provides real-time data acquisition and modelling / reprocessing capabilities. Advanced communication protocols including TCP/IP and RS232 have been designed for production environments and OEM needs.