MEMCAST™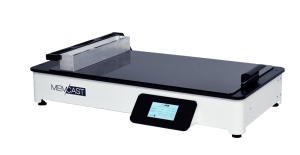 The MEMCAST™ is your ultimate solution for achieving precise and efficient synthesis of flat sheet polymeric membranes. By automatically casting a thin film of a polymer solution, the MEMCAST™ streamlines the creation of membranes with different thicknesses, offering unparalleled control and reproducibility.
Whether it's preparing film layers self-standing (e.g. coating directly onto glass, stainless steel, etc.) or on various substrates (e.g. nonwoven, polymeric supports, etc.), the MEMCAST™ empowers you to create high-quality membranes with ease.
The MEMCAST™ offers a significant advantage over traditional, non-automated methods of membrane casting:
Compared to traditional methods, MEMCAST™ stands out as a time-saving and automated solution. It simplifies and expedites the membrane creating process, allowing the operator to allocate valuable time to more critical tasks.

The MEMCAST™ requires minimal operator intervention, limiting variations and inconsistencies often encountered in manual processes. The MEMCAST™ guarantees quick and reproducible membranes.

The MEMCAST™ is designed with the user's convenience in mind. With easily adjustable settings for coating speed and temperature, it's possible to produce smooth and consistent membranes within minutes. The membrane can be tailored to the exact specification thanks to our casting knife with adjustable thicknesses.
The MEMCAST™ comes with a standard knife with 1 compartment and 4 thicknesses (M1G4) for casting films of 100 µm, 150 µm, 250 µm and 500 µm wet thickness. Custom made knives can be made on request. Also included with the MEMCAST is the tempered glass casting plate.
Specifications:
MEMCAST™ casting size ca. 350 x 560 mm

Casting speed 0.1 up to 10 cm/s

Heating of the coating surface up to 60 °C

Digital display (touch screen) to set temperature and read the actual temperature, as well as to set and read the coating (casting) speed.
Options:
Casting plate in stainless steel 316

Glass casting plate with special clamp to attached nonwoven fabric or another substrate layer

Custom made casting knife in aluminium

A wide range of single line and high throughput casting knives is available offering different coating thickness. The user can select the number of coating lines, comprised between 1 and 4.

The thickness can vary between 50 µm and 2000 µm.

The width of the knife can easily be reduced, the maximum width available is 380 mm where actual casting width is 350 mm.

Custom made casting knife in stainless steel 316

Coagulation bath