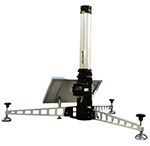 EFRD 1100
EFRD 1100 has been developed to support nuclear emergency preparedness, which allows regulatory more speedy installation and minimized radiation exposure. Dual GM tubes (high dose tube & low dose tube) and NaI(Tl) Scintillator are utilized to measure high dose during accident as well as low dose during normal environment. EFRD 1100 has been applied as an alternative environmental radiation monitoring post in order to supplement existing posts, which may be damageable by unexpected natural disasters such as tsunami.

EFRD 2100
EFRD 2100 is an intelligent multi-purpose gamma detector to be operated inside the nuclear related facilities such as nuclear power plants and hospitals with nuclear treatment. It provides continuous gamma radiation monitoring at the specific place and added value through easy addition of extra sensors. It displays dose rate information and transmits dose rate data to remote users. EFRD 2100R is to monitor the dose rate in the living environment such as schools and homes. It includes Wi-Fi modem for remote monitoring. EFRD 2100M can support up to 3 sensor probes (3 dual GM probes or 1 NaI(Tl) and 2 dual GM probes) for multiple spot monitoring.

EFRD 3300 & 3500
EFRD 3300 & 3500 features SI's Multi-Channel Analyzer (MCA) to provide stable dose detection as well as discrimination of natural and artificial radiation. It has improved user friendly interfaces through extensive experience of user applications. Data transmission for integrated operation data including real time dose rate via Wi-Fi , GSM, CDMA to remote users allows early detection and effective analysis. EFRD 3300 has been applied to Korea's IERNet, Malaysia, China, and Thailand since 2004.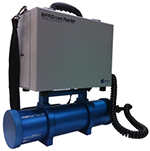 Rad XP
Rad XP is a portable MCA for the safety and regulation of nuclear facility personnel. It supports spectrum acquisition and radioisotope trend monitoring using NaI(Tl) scintillator and supports data transmission to remote monitoring users.