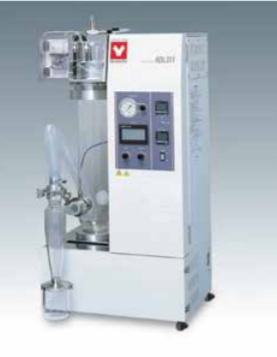 Compact, economical and low cost Spray Drying System for water soluble and/or organic solvents samples
Excellent in cost and performance
Easy set up, easy operation
Process samples as small as 0.5g of solid matter
One touch mechanism for drying chamber, cylone and product vessel
Safe for heat-sensitive samples, such as food or medical products
No risk of contamination
Fast and easy clean up
Unique nozzle cooling, pulse jet mechanism and a nozzle knocker for stable spray drying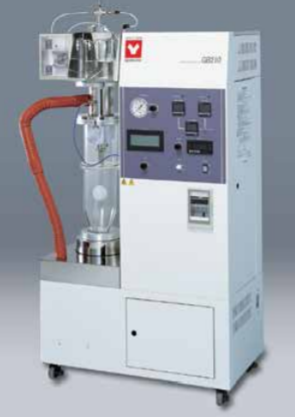 Spray Dryer Pulvis Mini Spray
Supports spray drying of fine powder of 1μm
Capable of drying ultra small samples as low as 0.5g of solid content. Can spray dry into fine powder 1μm in size when optional mini cyclone is used.
Compact spray dryer that can produce powder easily on a laboratory scale. It is capable of variety of applications from preliminary experiments in a pilot plant to drying work in general laboratories.
Samples unstable at high temperatures can be reliably processed into fine powder.
The heat is applied instantly and indirectly to the powder itself
Prepared fine powder will not be oxidized, contains minimal moisture and is contaminant-free
Direct drying from solution/suspension liquid tofine powder with a reduced risk of contamination.
No pre or post processes such as filtration, separation, or pulverization are required
Processing of samples containing organic solvents is made possible by connecting the Solvent Recovery Unit GAS410
This unit can also be used as a fluid bed drying granulator by installing a separate mini bed attachment GF200 instead of GF300 spray drying attachment
An automatic lift is equipped as standard to enable easy installation or removal of glass drying chamber attachment
A service outlet (max. 2A) and a sample stand are equipped as standard for connecting a magnetic mixer for stirring suspended liquid sample
Stable spray drying using a unique peristaltic pump, nozzle cooling mechanism, pulse jet mechanism and a nozzle knocker enable stable spray drying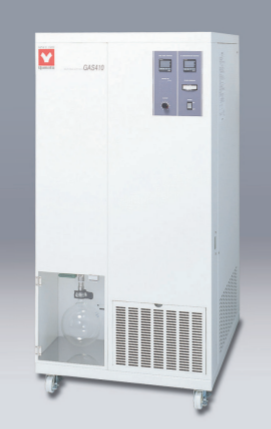 Organic Solvent Recovery Unit GAS410 Used in conjunction with Spray Dryers
Prevents external discharge when using organic solvents GAS410 is used with spray dryer models ADL311SA, GB-210A and DL410.
Dehumidifier (Freezer) integrated in GAS410. No extra freezer/dehumidifier equipment needed
Compressor included, no need for a separate compressor to operate the spray dryer ADL311SA when using organic solvent samples
Flammable or toxic solvents can be processed by combining a N2 gas sealed circulation system and a solvent recovery system (with freezer and capacitor)
Explosion safety with closed loop N2 inert gas system
Recovery of solvent to protect the environment and enable minimized pollution.
Drying of easily oxidized materials is possible
Supports low temperature drying of materials that easily deform with heat
No freezing risk due to organic solvent with aqueous solution mixtures which could cause damage to the closed loop GAS410 system
Spray drying and recovery of products and solvents are performed with meticulously devised safety measures