LabRAM Odyssey
Confocal Raman Imaging & High Resolution Spectrometer
The LabRAM Odyssey Raman microscopes are ideally suited for both micro and macro measurements, and offer advanced confocal imaging capabilities in 2D and 3D. The true confocal Raman microscope enables the most detailed images and analyses to be obtained with speed and confidence. With guaranteed high performance and intuitive simplicity, the LabRAM Odyssey is the ultimate instrument for Raman spectroscopy. It is widely used for standard Raman analysis, PhotoLuminescence (PL), Tip Enhanced Raman Spectroscopy (TERS) and other hybrid methods.
Features:
High spatial and spectral resolutions
From deep UV to NIR without compromise
Ease of use and ergonomy
Ultra-fast confocal imaging
Raman-AFM and TERS compatible
Ultra-Low Frequency Module
Automated particle location and chemical ID
Find the best conditions for the analysis of your sample
CaptuR laser trapping

XploRA™ PLUS
Raman Spectrometer – Confocal Raman Microscope
The XploRA can be coupled to both upright and inverted microscopes, allowing analysis of all sample types, ranging from semiconductors and nano-materials, through to biological cells and tissues. Combining microscopy and chemical analysis, the XploRA™ retains the full functionality of your microscope coupled with high performance Raman spectroscopy.
Features:
Compact design – the system has a surprisingly small footprint, ensuring valuable lab space is not wasted

Rugged optical design for long term performance stability and minimum downtime

No compromise light microscopy – enjoy the full benefits of a research grade optical microscope, including advanced visualisation options such as dark field, phase contrast and DIC

Upright – for materials and forensic applications, including semiconductors, nano-materials, minerals, forensics, pharmaceutics etc.

Inverted – for life science applications, including cell imaging, characterization of drug-cell interations.

Compatible with atomic force microscopes for combined Raman-AFM and TERS (Tip Enhanced Raman Spectroscopy)

Multiple laser wavelengths – ensures optimal results and minimised fluorescence interference from the widest range of sample types

Full system automation with software control and intuitive operation – non-expert operators can get results fast

Comprehensive Raman spectral libraries for fast Raman chemical identification

Automated XYZ stages for Raman imaging and depth profiling

SWIFT for ultra fast raman imaging.Plug and play operation.
LabRAM Soleil
Multimodal Raman Microscope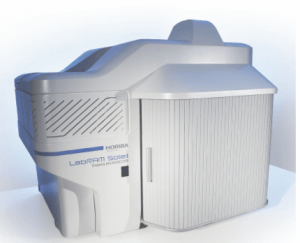 The LabRAM Soleil™ multimodal microscope has been designed with application experts to supercharge your analysis and set the new standard for Raman imaging and spectroscopy. It features advanced automation allowing a true self-operation. Ultrafast imaging, up to 100 times faster than a conventional Raman spectrometer, is performed thanks to the innovative SmartSampling™ technology. The patented QScan™ feature offers lightsheet confocal imaging. It presents a robust design and is driven by an intuitive software. Therefore, this Raman microscope is your companion of choice to get your results fast and give you access to new domains of application.
Features:
Advanced Automation features 

Ultrafast Imaging (SmartSampling and QScan)

Intuitive software to simplify workflow

Great variety of Optical viewing modes

Great variety of hyperspectral imaging features

A modular and flexible optical microscope
XploRA INV
Inverted Raman Microscope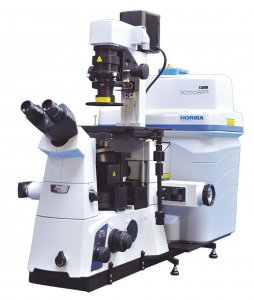 The XploRA INV inverted Raman microscope combines the automation features and small footprint of the standard XploRA™ Raman microscope with the unique sampling capabilities of an inverted microscope, especially important for demanding biological applications.
MacroRAM 
Benchtop Raman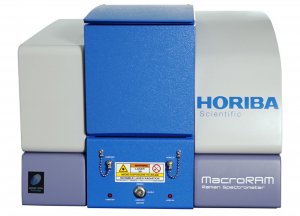 Raman spectrometry is the fastest non-destructive technique to identify any type of sample (powder, liquids or gas) with high accuracy. It is the ideal way to perform routine work, follow the synthesis process, quality control (QA/QC) and teach Raman.
This innovative benchtop instrument perfectly combines robustness and high sensitivity. Its high sensitivity optical system ensures exact results, even for most complex samples. Designed to be user friendly and capable of in situ measurements, MacroRAM is the new standard as a partner for all labs.