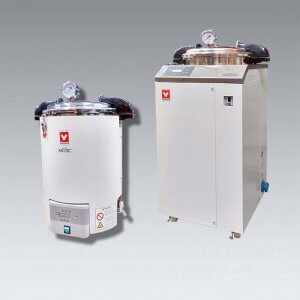 Yamato Scientific  laboratory autoclaves are ideal for sterilization of contaminated waste, instruments, culture media or laboratory equipment to prevent the accidental spread of the coronavirus.
According to the World Health Organization (WHO) guideline 'Laboratory biosafety guidance related to the novel coronavirus (2019-nCoV)' from 12 February 2020, biosafety levels BSL-2 and BSL-3 are required in order to safely handle COVID-19. Laboratories at which diagnostic work such as virus sequencing is conducted should conform to the BSL-2 standard, while laboratories at which the virus is cultivated or otherwise present in high concentrations should operate on the basis of BSL-3. Yamato Scientific autoclaves are perfectly suited to comply with the safety guidelines at appropriate laboratories that have been published for this purpose by the WHO.
Yamato Scientific SK steam sterilizer series presents the most economical & space-saving autoclaves ever made for research facilities with limited space. All fitted into space-saving compact & benchtop autoclaves, our SK benchtop autoclaves can load samples up to 18L while the SK compact autoclave models come in 24L to 30L internal capacities.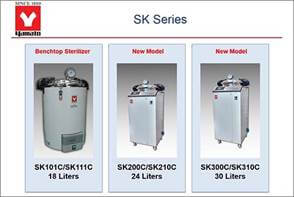 Yamato's SK steam sterilizers incorporate a 4 digit LED display & programmable sterilizing and temperature functions, giving you a more effortless & easy-handling sterilization experience. The basic steam sterilizers featured in Yamato's SK series are also ramped up with safety features such as overheat protection, water level detection sensor with alarm, and inter lock tech.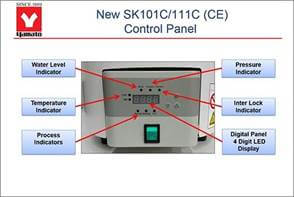 Increased Safety Features
Water level detection sensor with alarm
Overheat Protection
Sensor Lid closure sensor (Inter lock)
Pressure Lamp Indicator
New improved silicon lid gasket and easy to replace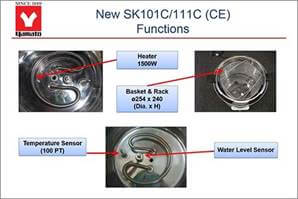 If you'd like to know more about Yamato STERILIZERS and how it can help in our battle against Coronavirus