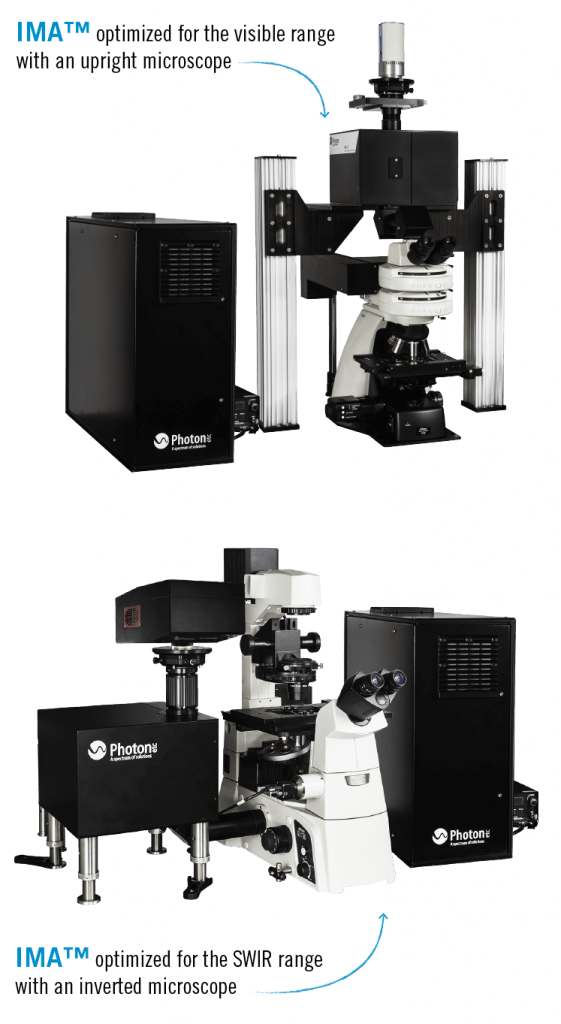 IMA™ hyperspectral microscopy platform
The IMA™ hyperspectral microscopy platform delivers equally high spectral and spatial resolution. Have this modular system configured to rapidly scan the VIS, NIR and/or SWIR spectrums while mapping a combination of photoluminescence, electroluminescence, fluorescence, reflectance, and/or transmittance. Each IMA™ comes equipped with high throughput global imaging filters; this allows it to measure a megapixel hypercube faster than hyperspectral systems reliant on scanning spectrography.
IMA™ OPENS THE DOOR TO
Perform complex material analyses like solar cell characterization and semiconductor quality control (e.g.: perovskite, GaAs, SiC, CIS, CIGS, etc.).

Study IR markers in complex environments including live cells and tissue. Take for instance the spectral heterogeneity of IR fluorophores emitting in the second biological window.

Retrieve dark-field images and obtain a contrast of transparent and unstained samples such as polymers, crystals or live cells.
CHARACTERISTICS
Fast global mapping (non-scanning)

High spatial and spectral resolution

Complete system (source, microscope, camera, filter, software)

Non-destructive analysis

Customization available

Sensitive from 400 to 1200 nm in the visible and from 900 nm up to 1700 nm in the SWIR range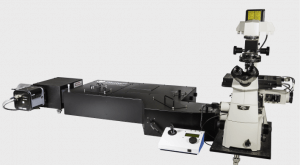 CIMA™ hyperspectral confocal system
CIMA™ hyperspectral confocal system is specifically designed for researchers developing the next generation of nanomaterials, such as upconverting nanoparticles for cellular imaging. 
This unique platform provides excellent spectral resolution between 400 nm and 1700 nm: below 0.2 nm in the visible range and less than 0.6 nm in the infrared. Paired with one of the fastest and most sensitive cameras on the market, the galvanometer scanning head boasts an acquisition rate of more than 300 spectra per second.
CIMA provides three acquisition modes: confocal hyperspectral imaging, multispectral fluorescence imaging, and emission spectroscopy of a sample in a cuvette.
SPECTRAL RANGE

400 – 1700 nm

SPECTRAL RESOLUTION

VIS
< 0.2 nm
(custom upon request)

IR
< 0.6 nm
(custom upon request)
CAMERA
Back-illuminated EMCCD
InGaAs linear array

EXCITATION WAVELENGTH

980 nm (other wavelengths available)
3 laser input ports
UHP Mercury lamp 130W
MICROSCOPE
Inverted; Scientific Grade
SPATIAL RESOLUTION

Diffraction limited

MAXIMUM SCANNING SPEED
> 300 spectra/s
~100 spectra/s
MOTORIZED XYZ STAGE
120 mm x 75 mm x 150 um
WAVELENGTH ABSOLUTE ACCURACY
0.25 nm
VIDEO MODE
Megapixel camera for sample visualization
DATA PROCESSING
Spatial filtering, statistical tools, spectrum extraction, data normalization, spectral calibration
HYPERSPECTRAL DATA FORMAT
HDF5, FITS
SINGLE IMAGE DATA FORMAT
JPG, PNG, TIFF, BMP
GRAPHICAL DATA FORMAT 
HDF5, CSV
SOFTWARE
PHySpec™

 

control and analysis (computer included)