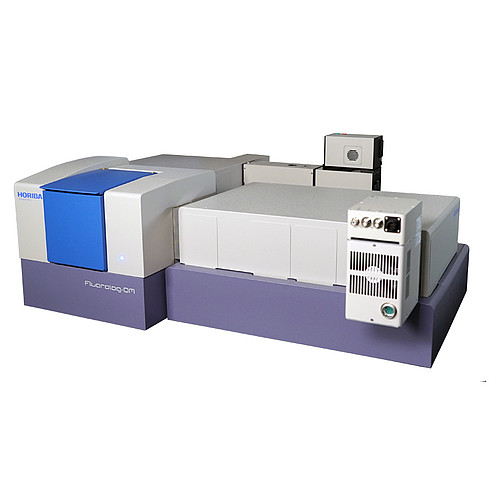 We now welcome a new system from Horiba Scientific for research and industry, the new FLUOROLOG-QM!
The Fluorolog-QM represents the culmination of decades of HORIBA's industry-leading experience in development and manufacture of the highest level of spectrofluorometer performance and versatility. The Fluorolog-QM, with its exquisite, optically perfect, all reflective optics, combined with a multitude of light source and detector options, and sample handling accessories, provides the highest sensitivity and greatest versatility of any spectrofluorometer.
The Fluorolog-QM can be enhanced to suit a broad array of luminescence experiments, with the industry's most extensive list of optional accessories to expand capabilities and performance, to meet all of the most demanding research lab's experimental needs. And when you purchase a Fluorolog-QM all of these enhancements and accessories can be added to your system at any later time as your needs change, or funds become available.
The Fluorolog-QM is a modular, lens free, all reflective spectrofluorometer for perfect focus at all wavelengths from the deep UV (180 nm) to the NIR (5,500 nm).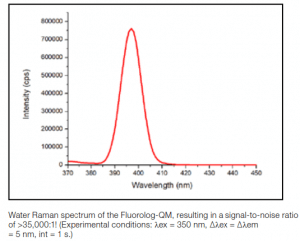 Fluorolog-QM features a guaranteed sensitivity specification at 32,000:1 signal to noise ratio for the Raman band of water using the FSD (Square Root) method.  It also offers focal length monochromators at 350 mm for single monochromators, and 700 mm for double monochromators, for the ultimate in stray light rejection. The Fluorolog-QM aims to let you detect the lowest possible concentrations of fluorescence.
Combined with up to 4 light sources, up to 6 detector options, and sample handling accessories, Fluorolog-QM can be enhanced to suit a broad range of luminescence research applications. These can range from a simple steady state configuration with a single light source and single cooled PMT housing, to the largest most versatile configuration with four different light source options and six different detectors, all connected to the same instrument and all controlled automatically with FelixFL software. The Fluorolog-QM delivers steady state, spectral and time resolved photoluminescence performance from 180 to 5,500 nm.
For more information on the Fluorolog-QM or to talk to an applications specialist, contact us!
Stay healthy!
If you'd like to know more about the Fluorolog-QM and how it can be used with your research applications,