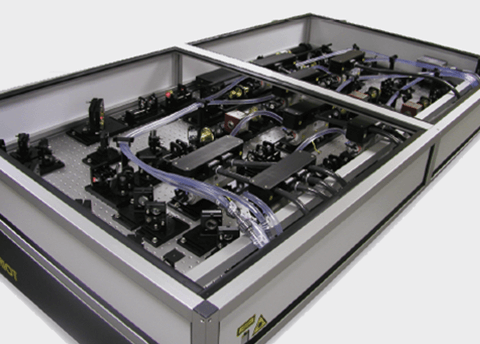 Custom Systems
Lumibird develops, designs and builds custom laser solutions to meet the needs of customers' application requirements. Lumibird can also modify or upgrade standard lasers to meet specific customer requirements and environmental constraints.
CUSTOM LASERS FOR VARIOUS APPLICATIONS
Thermal characterization at high temperature
OPCPA or Ti:Sa pumping
LIDAR
Thomson scattering
LIF
Plasma physics
Shock generation
Your application, etc.
LUMIBIRD CUSTOM LASERS – A FEW EXAMPLES:
Pulsed fiber laser amplified to 30 J, with adjustable temporal profile for plasma physics
High energy (50 J) free running Nd:Phosphate system with optical fiber coupling for metrology applications at high temperatures
Fiber laser sliced at 1 µs and amplified to 5 J, frequency doubled for Raman spectroscopy and temperature measurements with Rayleigh scattering
1.57 μm low divergence OPO for military use
Triple pulse UV Nd:YAG system.