Remote Control Unit
Modu-Laser's easy-to-use analog Remote Control Unit provides control of the following basic laser functions: Laser "On/Off", Shutter Position, and Output Power control. In addition, indicator lamps show Laser Power, Emission, and Shutter Position status. The standard length of the control cable is 8 foot.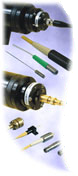 Fiber Coupling
Fiber coupling to Modu-Laser Argon and Krypton lasers is easily achieved using a variety of off-the-shelf products. Any fiber coupling device, which utilizes a standard 1 inch 4 hole square mounting pattern (#4-40 thread), may be used.

External Cooling Fan
Modu-Laser's External Cooling Fan assembly may be factory installed onto any Stellar-Pro and Stellar-Pro-Select model laser. This option is useful for applications where the hot laser exhaust air needs to be removed from the vicinity of the laser. It is also ideal for applications which require the elimination of the minimal amount of fan vibration of standard lasers.